Taylor Wimpey offers opportunities for sub-contractors in Devon and Cornwall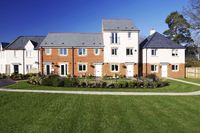 Taylor Wimpey Exeter is holding two Trade and Supplier Open Days to give sub-contractors in the South West the chance to work with the leading housebuilder.
Due to the opening of several new developments in Devon and Cornwall, Taylor Wimpey is looking for new sub-contractors and tradespeople to tender for work in 2015.
Anyone interested in finding out more is invited to attend one of the open days which will be held on either Wednesday 15th October or Thursday 30th October.
One is taking place at the Holiday Inn Express, Exeter (Exeter Business Park, Guardian Road), from 8.30am to 1pm on Wednesday 15th October and the other at the Business Space, Truro (City Road), from 8.30am to 12.30pm on Thursday 30th October.
Bradley Davison, Commercial Director for Taylor Wimpey says: "These are exciting times for Taylor Wimpey Exeter which has enjoyed steady growth over the past few years. Looking forward, we have planning consent for 11 new sites in Devon and Cornwall with construction activities commencing in 2015 – which will ultimately see the construction of over 3,000 much-needed new homes for local people".
"With this in mind, we are looking to identify new sub-contractors and tradespeople to tender for work for us during 2015. As one of the country's top housebuilders, we have industry-leading health and safety standards, we also have a five-star customer satisfaction rating, so we are a great company to work with."
"I'd like to invite anyone who is currently operating in the building trade – providing services ranging from bricklaying to decorating – to attend our open day events to find out more."
Sub-contractors or tradespeople wishing to find out more can call 01392 442615 or email Danielle.vickers-collins[at]taylorwimpey.com for more details.
Further information about Taylor Wimpey homes in the South West region is available by visiting taylorwimpey.co.uk.