Vauxhall's new Corsa boosts image with Guinness World Records attempt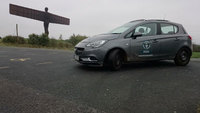 Few cars are as widely known in Britain as Vauxhall's Corsa, and to celebrate the launch of the Fourth Generation model an early prototype car is being used to achieve the Guiness World Records' title for the Largest GPS Drawing.
The image is being generated by Jeremy Wood, one of the pioneers of GPS-art, but will have the final flourishes applied by motoring journalists as they test New Corsa for the first time during a UK-wide launch organised by Vauxhall this month.
On completion, Vauxhall aims to have achieved the world record for the Largest GPS Drawing (minimum distance to beat is 4,451 miles) while at the same time visiting most of Britain's towns and cities as part of an epic, month-long endurance drive that will cover over 7,000 miles of the UK's mainland.
When the final image is revealed at the end of October, it will stretch from Scotland to the South Coast of England and will be recognised as one of the most spectacular virtual drawings the world has ever seen. It will also have particular relevance to the day on which it goes live.
GPS-art combines drawing, travelling (in many different forms) and technology to create art-work on a very large scale. GPS receivers determine the artist's position by trilateration of microwave signals from satellites orbiting at 12,500 miles altitude. Tracks of a journey are recorded in the GPS receiver's memory via a transponder (which in this case is fitted to the Corsa's roof) and can then be downloaded.
'Corsas can be found in every village, town and city around the UK, so we wanted to visit as many locations as possible during the record attempt to raise awareness of the new car,' said Simon Hucknall, PR Manager for Vauxhall Product & Heritage. 'We also wanted to create a truly unifying image using modern technology, which squared well with the level of innovation in the new car.
Guiness World Records is excited that we're already close to breaking the record, and if we do, our car and GPS artist will have covered in a month what many motorists drive in a year.'
GPS artist, Jeremy Wood, has been creating 'digital marks' on water, over-land and in the air for more than a decade. His work is exhibited internationally and is in the permanent collection of London Transport Museum, the V&A and University of Arts in London.
'This is by far the most challenging commission that I've taken on,' said Jeremy. 'In order to make the image instantly recognisable, I've driven New Corsa on a huge mix of roads and travelled some of the most convoluted routes to ensure that the outlines are clear and memorable.'
But despite the daunting task and epic mileage, Jeremy has nothing but praise for his early, pre-production Corsa 1.0-litre ECOTEC: 'It's wonderfully comfortable and quiet for covering a high mileage every day – not what I expected from a small car. It's also averaged 50mpg, which given my stop-start work has been a pleasant surprise.'
Jeremy's final image will be revealed at the end of October, through multiple media and social network channels. Not only is it set to become a Guiness World Records title, but the subject of the picture will have a particular resonance with the British public on the day of its release.
New Corsa is now on sale through Vauxhall dealers at a starting price of £8,995.