Carol Vorderman goes ultra low with the Vauxhall Ampera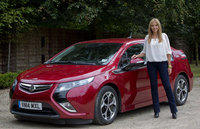 Carol Vorderman, MBE, has become the latest ambassador to trial the Vauxhall Ampera extended-range electric vehicle, in support of the Go Ultra Low campaign.
Go Ultra Low, a ground-breaking partnership between the UK automotive industry and Government, is designed to encourage more drivers to consider ultra low emission vehicles (ULEVs). Carol was keen to get involved with the project, commenting: "I'm obsessed with engines, cars and aeroplanes, and with a degree in Engineering, I've always been fascinated by how things work."
As a busy working mum, Carol was initially wary that driving a ULEV would just add to her to do list. However, after a couple of months trialling the Vauxhall Ampera she commented: "Actually quite the opposite is true, it's easy. You come home, plug it in, you go away and come back in the morning and it's fully charged." She went on to say: "Journeys in and out of Bristol are shorter, so the range on the Vauxhall Ampera with the electric motor itself is perfect for me. It gets me through the day and I don't have to go to the petrol station which long-term, saves me a considerable amount of money."
The award winning vehicle is well equipped with voice activated sat navigation featuring street level mapping for 20 European countries, audio/video DVD player, hard drive device with 30GB music file capacity and Bose 'Energy Efficient Series' sound system.
"Carol is a great ambassador for the Vauxhall Ampera." comments Denis Chick, Director of Communications, Vauxhall Motors. "She is a perfect example of the kind of person we are trying to reach with the Go Ultra Low campaign. There are many myths surrounding ULEV's which simply aren't true; as Carol's experience has proven, the Vauxhall Ampera performs for just about any lifestyle today."
Carol comments: "If someone was considering buying one of these cars now, I'd say do it. They're a fantastic piece of engineering and very, very simple to use. They look good, they're quiet, and they're obviously fuel efficient, as well as being good for the environment."
The Vauxhall Ampera has a real-world battery range of between 25-50 miles and the Ampera can be charged by a 240V plug on a separate circuit in your home. The Ampera has a small range-extending generator, powered by a 1.4-litre petrol engine, which intervenes to provide up to an additional 300-plus mile range. At all times, the Vauxhall Ampera's wheels are electrically driven, setting it apart from conventional hybrid vehicles.
Ampera pricing starts at £28,750 on-the-road (including a £5,000 government grant) for the Positiv model. The car is available through a network of 25 specialist Vauxhall dealers and is covered by the manufacturer's industry-leading Lifetime Warranty.
To watch Carol Vorderman demonstrate why her Vauxhall Ampera is helping her to 'Go Ultra Low', see:
youtube.com/watch?v=4i527uM-4gQ&feature=youtu.be