Sir Steve Redgrave to drive the Bonhams London to Brighton Veteran Car Run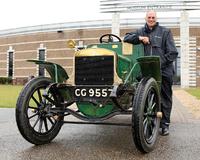 The British Motor Industry Heritage Trust, based at the Heritage Motor Centre, Gaydon, will have a total of 6 cars from its Collection participating in this year's Bonhams London to Brighton Veteran Car Run on Sunday 2 November. This year the Olympic rowing legend, Sir Steve Redgrave, will be will be driving the Trust's 1904 Thornycroft and in order to practice driving a veteran car, he visited the Heritage Motor Centre on Monday 13 October for a 'veteran driving lesson' so that he is well prepared to drive a vehicle aged 110 years old!
Other cars from the Trust taking part include; a 1899 Wolseley 3½hp voiturette, a 1901 Wolseley 10hp tonneau, 1902 Albion A1 dog-cart, 1904 Wolseley 6hp phaeton and a 1904 Rover 8hp tourer. They will be driven by other invited VIPs, including John Orna-Ornstein, Director of Museums for Arts Council England and will join 400 other participants, all driving vehicles manufactured prior to 1905.
The 1904 Thornycroft 20hp that Sir Steve Redgrave will be driving was built by John I Thornycroft, a successful marine engineer. He built his first steam-powered commercial vehicles in 1895-96 and by 1902 had expanded to include petrol-engined vehicles. By 1913, however, he had stopped making cars. This particular car has had a long and distinguished career in the Run and was on several occasions before the Second World War, the first car to reach Brighton. After the War it was sometimes driven by Lord Brabazon of Tara, a pioneer motorist, racing driver and aviator.
The Bonhams London to Brighton Veteran Run is a premier event in the annual motoring calendar and has been running longer than any other in the world. It marks the historic day in 1896 when a group of pioneer motorists set out from London towards the seaside, in celebration of the 'emancipation of the motor car'. The drivers that take part will drive some of the most innovative and unique cars from our automotive heritage.
Sir Steve Redgrave said "I am really looking forward to doing the Run for the first time, although I know it is not a race, the competitor in me will spur me on to the finish in Brighton."
Stephen Laing, Curator at the Heritage Motor Centre said "We are delighted that Sir Steve will be driving one of the cars from the Museum's Collection. The Run is one of the most exhilarating and exclusive motoring experiences in the world. These wonderful cars are all more than a century old and are some of the rarest and finest models from our Collection. Watching over 400 veteran cars take part in the Run is an amazing and nostalgic experience."
To find out more information please visit the website at heritage-motor-centre.co.uk.