Photography Studio Harcourt exhibits best celebrity images at Sofitel London St James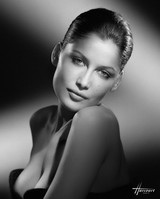 For the first time in the UK, a hand picked selection of celebrity photographs by world famous Studio Harcourt, will be on display at Sofitel London St James from 4th - 25th November.
Studio Harcourt is celebrated for its photography of some of the most iconic figures of the 20th and 21st centuries. Coinciding with Studio Harcourt's 80th anniversary, this exceptional display includes exclusive portraits of international legends, including Karl Lagerfeld, John Malkovich, John Galliano and Edith Piaf.
Aside from viewing the exciting exhibition, guests are able to 'snap' up a piece of the action for themselves. From 21 - 24 November, a pop up Harcourt photography studio will be present at Sofitel London St James, allowing members of the public to join the list of stars who have had their portrait taken by Studio Harcourt's team of top photographers. Harcourt's make up artists will also be on hand, assisting the photographers to capture the true emotion and character of the models, in the iconic Harcourt black and white style.
Founded in 1934 by Cosette Harcourt in partnership with Robert Ricci and the Lacroix Brothers, Studio Harcourt Paris has since been heralded an institution amongst the visual arts. The studio is located a stone's throw away from the Champs Elysées, and over the past 80 years has captured unforgettable moments, featuring stars such as Catherine Deneuve and Salvador Dali and more recently Cate Blanchett and Jean Dujardin, amongst many others.
Sofitel London St James General Manager, Nicolas Pesty comments; "We are so proud to host the very first exhibition of this beautiful collection of portraits at Sofitel London St James. This provides a real insight into some of the celebrities characters, whilst giving our guests and members of the public a window into Studio Harcourt's unique work, and a chance to be photographed themselves. Being a French brand, celebrating and supporting French culture and the arts is something extremley close to our hearts.''
To book a session at the pop up Harcourt Studio in London between 21 - 24 November, please contact Sofitel London St James on 020 7747 2234. Rates from £700.00 excluding VAT.