Simply Smart - Sunday 9th November 2014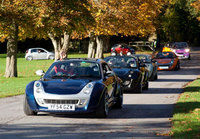 Beaulieu's much-loved Simply Smart will return on Sunday 9th November, with all smart car owners invited to join a vibrant display of these compact machines in the grounds of the National Motor Museum. The event, now in its fourth year, has become a firm favourite with owners and enthusiasts alike, and showcases the rich variety of creative designs and colour schemes present in the smart world.
Events Co-ordinator Charlotte Mountain explains: 'We are very pleased to welcome back this hugely popular event in Beaulieu's calendar, which always features an eclectic mix of different smart cars in a fantastic range of colours. Simply Smart always proves what a huge following these small cars have and it is great that many owners who attend choose to personalise their cars to reflect their personalities.'
In addition to the iconic smart fortwo model, which is always well-represented at the event, Simply Smart promises to bring together some of its quirkier variants, such as the sporty roadster, the family forfour and even the roofless, limited edition crossblade, while rarities such as an electric powered example will also be in attendance.
The last of eight Simply events to take place in 2014, Simply Smart is well supported by owners' clubs and online forum groups and is traditionally held around the time of Remembrance Day, 11th November, which this year falls two days after the event. To honour this important day, a two minutes silence will be held at 11am, which visitors are invited to take part in. Mr Tod Sloan, a retired Royal Navy CPO and proud Smart owner, will be providing a reading.
Visitors to Beaulieu will have the chance to vote for their favourite smart car of the day, deciding the winner of the People's Choice Award. The awards will be presented in the afternoon, with the winner receiving a Beaulieu Trophy and the chance to lead the top ten cars voted for, in a cavalcade through the parkland.
Participants can also enjoy all of the delights of the Beaulieu attraction, including the National Motor Museum's two new displays for 2014. For Britain & For The Hell Of It features the museum's iconic British Land Speed Record cars and is accompanied by a stunning audio-visual presentation of British Land Speed Record achievement. The Motorcycle Story takes you on a journey through two-wheeled history with machines dating from the earliest examples, through Mods & Rockers youth culture of the 1950s and 1960s, to Trials, Speedway and Drag Racing.
For entrants arriving on the day in a smart car and participating in the event, individual ticket prices are £10 per adult and £5 per child.
To book advance tickets online, visit beaulieushop.co.uk or telephone 01590 612888, which you can also call for information on group/club entry. For all enquiries regarding trade stands, telephone 01590 614614.
Entry into the Beaulieu parkland with your smart car is from 9.30am, when refreshments will be available.
All other visitors who wish to see the event, but not participate in a smart car should enter Beaulieu via the Main Reception from 10am at normal attraction admission prices.
Admission to the event includes entry to the whole Beaulieu attraction; the National Motor Museum, World of Top Gear, On Screen Cars, Beaulieu Abbey, and Palace House and gardens.
Simply Smart is part of a growing calendar of Simply events which includes a wide variety of themes covering many makes and models.
For more information and Simply dates for 2015, visit beaulieuevents.co.uk or join the conversation with @Beaulieu_Hants on Twitter using #simplysmart