All-new Ford Transit Courier recruited by the Scottish Fire and Rescue Service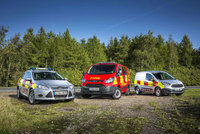 The smallest vehicle in the Ford Transit range, the all-new Ford Transit Courier, has landed a role with the Scottish Fire and Rescue Service (SFRS).
Formed in April 2013 by uniting Scotland's eight regional fire and rescue services, the SFRS has a large and uniquely challenging territory to cover. The 11 Ford Transit Couriers which have joined the service face a tough, action-packed life across the country from the Highlands and islands to the Borders.
Their work will chiefly involve fire prevention – carrying equipment and personnel to assess fire risks in business premises and public buildings and as part of fire safety demonstrations. They are ideal for the role, says SFRS fleet manager Scott Roberts: "It's a small van but the load space within is excellent and more than adequate for the job, but our chief concerns are whole-life costs and ease of maintenance. When you have a region to cover as large as Scotland, an extensive dealer network is vital and of course, Ford has a dealer in nearly every large town."
The service has also selected the Transit Custom for deployment in the Highlands, where double cab-in-van models perform an essential function as a back-up to fire-fighting appliances, carrying breathing equipment and other tools.
Water rescue missions are part of the SFRS' work and the 4x4 Ford Ranger is its choice for towing the service's rescue craft. The Ford Focus is meanwhile carving a niche for itself as an effective fast-response vehicle.
Terry Adams, Ford direct sales manager, said: "For the Scottish Fire and Rescue Service, the extensive Ford range of cars and commercial vehicles ticks all the boxes, with a model ideal for every function within the service. Ford provides an unrivalled customisation service for 'blue-light' applications, and of course its service network across the UK is second to none. We are delighted to see our products helping protect the public."