Ford Transit golden convoy starts UK tour to celebrate 50 years of service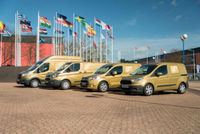 Ford's golden convoy of Transits celebrating 50 years of the van icon has departed the UK's CV Show to tour dealerships, events and other shows until the commercial vehicle leader's actual anniversary on the weekend of Aug 8/9.
The tour by gold-coloured Transit Courier, Connect, Custom and two-tonne Transit models marks five decades of loyal service to businesses in UK and around the world.
Since the first vehicle left the production line in Langley, England, on August 9, 1965, almost 8 million Transit and Transit Custom models have been built, and the Transit has grown from a single model to an entire family of Transit vans.
Lined up end-to-end, 50 years of Transits would circle the globe, and on average a new Transit has been bought every 180 seconds during its lifetime.
The latest expanded Transit line-up features four all-new models – Transit, Transit Custom, Transit Connect and Transit Courier – which are boosting demand for Ford commercial vehicles, with sales at an all-time high in March up 43 per cent at 16,497, compared with March 2014.
"The Ford Transit has touched the lives of most of us," said Mark Ovenden, chairman and managing director, Ford of Britain. "From house moves to moving people, the Ford Transit is an essential tool to get the job done. It has become a mobile office or workshop for some – and loved by us all."
Launched in the same year that the first person walked in space, the Transit made an immediate impact, providing practical support to the booming economy. The Transit evolved with a vast range of bodystyles and variants: from the parcel van, through tipper trucks and campers, to outrageous one-offs, including the Cosworth V8-powered Supervans.
Growing popularity saw production of the Transit accelerate, and after passing the first million milestone in 1976, it rapidly passed the next ones in 1985, 1994, 2000, 2005, 2010 and 2013. Add demand for the smaller Transit Connect – with more than 1 million sold – and the compact all-new Transit Courier, and total Transit production is scheduled to top 9 million during 2015.
Transit has also introduced a list of technology innovations to help improve performance, comfort and safety; from features like side-loading doors, radial ply tyres and halogen headlights, to direct injection diesel engines, high security locks and standard anti-lock brakes. The latest Transit models have added state-of-the-art technologies like Adaptive Cruise Control and Lane Keeping Aid.
The success of the Transit has seen production expand beyond Europe, including facilities in Nanchang, China and in 2014 the Transit entered North America for the first time, with the all-new two-tonne Transit being built in Kansas City, Mo. This has helped extend the all-new Transit to 118 markets across six continents.
"Ford's Transit family continues to lead the way in innovation," Ovenden said. "With 50 years of van sales leadership in the UK under its belt, the new four-van Transit range is looking forward to its next half century."