Defective tyres lead to millions of MOT failures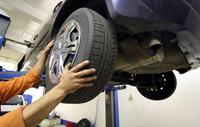 New figures obtained under a Freedom of Information request have revealed that millions of drivers are placing themselves and other road users in unnecessary danger by driving on unsafe or illegal tyres.
According to data supplied by the Driver & Vehicle Standards Agency, more than 2.2 million cars failed their annual MOT test in 2013 because of the state of their tyres.
"It beggars belief that so many motorists can fail their MOT because of unsafe or illegal tyres," comments Stuart Jackson, chairman, TyreSafe. "Your safety on the road is totally dependent upon the condition of your tyres so it's vital that you check these regularly throughout the year, let alone just before you take your MOT. Furthermore, they are also one of the easiest items on your car to check, so there really is no excuse for this amount of tyre related failures."
Reinforcing the scale of the problem of dangerous and illegal tyres, recent figures released by the Department for Transport showed that more than 968 road casualties were caused in the UK in 2013 because of an accident involving illegal, defective or under-inflated tyres.
However, to help drivers understand the importance of making regular tyre safety checks and identifying what to look for, thousands of garages and tyre dealers across the country are offering free tyre safety checks as part of October's Tyre Safety Month. Locations of participating outlets can be found by entering your postcode into the dealer locator on www.tyresafe.org.
"We are entering the most treacherous period of the year when the roads can become very wet and slippery so it's essential that your tyres are in the best possible condition," continues Jackson. "Driving on dangerous or illegal tyres can leave you vulnerable to a number of hazards such as longer stopping distances, loss of grip or an increased risk of aquaplaning but these can all be minimised with appropriate safety checks."
To help drivers improve their safety on the road, TyreSafe recommends that drivers carry out three key safety checks at least once a month.
Firstly, tyre pressures should be checked to ensure they are in line with the vehicle manufacturers recommended settings. Tyre tread depths should also be examined to ensure they are well above the legal minimum of 1.6mm. Finally, the tyre should be given a thorough visual inspection to ensure it is free from cuts, lumps or bulges and there are no items embedded in the tread.
Drivers looking for more information about how to check their tyres themselves or to find the location of their nearest fitting centre offering free tyre safety checks should visit tyresafe.org.