The Casio Edifice EQW-A1400DB-1AER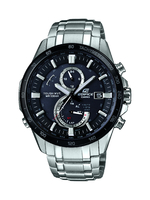 The 2014 autumn/winter collection from Casio Edifice represents the very latest advancements in watch technology and precision. Each motorsport-inspired timepiece features exclusive design elements, and the staggered release of the collection generates great anticipation among watch enthusiasts for each individual model.
The Casio Edifice EQW-A1400DB-1AER is the latest feature-packed release, a multi-function timepiece with radio-controlled time calibration, automatic hand adjustment and water resistance to a depth of 100m.
Precise timekeeping is a prerequisite of all Casio Edifice watches, and the EQW-A1400DB-1AER delivers this through world-first technology. The watch contains a miniaturised high-sensitivity antenna setup to receive calibration signals from Multi Band 6, the world's first radio-controlled network of six time transmission stations. Two of these stations are in Japan, and the remaining four are located in North America, the United Kingdom, Germany and China.
The signals extend to a radius of up to 1,875 miles, which means that once the watch has been set to the relevant time zone it will always display the exact local time; even make automatic changes between summer and winter times. Every hour the home position of the hands is checked - and corrected if necessary - to ensure that the displayed time has not been affected by shocks or magnetic influence.
Additional features of the Casio Edifice EQW-A1400DB-1AER include solar charging, 10 bar water resistance, world time displays, a stopwatch accurate to 1/20th second, and a countdown timer that can be set in one-minute and one-hour increments up to 24 hours. As with every model in the 2014 autumn/winter collection, all this technology is packed within all-metal construction and under a scratch-resistant mineral glass cover.
The 2014 Casio Edifice EQW-A1400DB-1AER costs £450 and is available now from branches of Fraser Hart and Goldsmiths, as well as Casio London or casioonline.co.uk
For more information visit: edifice-watches.co.uk