What's the best car in the wet?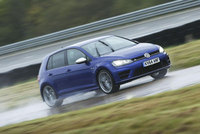 The Volkswagen Golf R has been voted the best performance car to have in the wet according to Autocar magazine.
With November signalling the start of the three wettest months on the calendar, and a general decline in road conditions, driving a higher performance car can be something of a handful for many owners.
Last year, Britons bought 47,544 sports and performance cars, 3.1% up on 2012, with more than 12,191 cars with over 3.0-litre engines registered on the roads according to the SMMT.
Autocar brought together seven of the most popular performance models – MINI Cooper, Audi RS4, VW Golf R, Porsche 911 Carrera 4S, Range Rover Sport, Toyota GT86 and Nissan GT-R – to scientifically prove beyond doubt which model is the most assured in the wet.
Testers examined the capability and safety of each model over five separate challenges at manufacturer test facility at MIRA Proving Ground. Autocar left it to the discretion of the manufacturers which tyres their cars were shod with.
The popular sporty models were scrutinised on their control when stopping from motorway speeds of 70mph, their stability on accelerating and braking on ice-like conditions at lower speeds, the level of lateral grip when cornering and finally their precision around a circuit.
VW's four-wheel-drive Golf R, which costs £31,970 and produces 296bhp, performed the best across all five tests, with the rear-wheel-drive £24,995, 197bhp Toyota GT86 the worst.
Running the VW Golf R close was the £88,400 Porsche 911 Carrera 4S with exception for the Lateral Grip tests where it's rear-biased weight distribution unsettled its handling.
"Driving conditions can become hugely challenging very quickly for drivers of sportier and higher performance vehicles. It is very easy to get caught out," explains Chas Hallett, editor-in-chief of Autocar.
"Advanced electronics certainly aid the driver, and winter tyres will improve grip, but drivers still need to drive within their limits and abilities, not the cars."