Infiniti test drive @Music Cube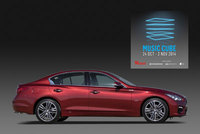 Infiniti is partnering Westfield in its innovative Music Cube events. The concerts offer a new way of listening to live bands in surprising locations without sacrificing sound quality. Free live performances from many headline acts kick off at Westfield London (White City) on Friday 24th October, continuing through to Sunday when the Music Cube moves to Westfield Stratford City.
During the Music Cube events visitors will be able to experience the new Infiniti Q50 2.0 Turbo, positioned close to the stage and available for test drives. Infiniti experts will be on hand to explain the car's advanced features and demonstrate its performance and handling abilities around a special on-road route close to each of the centres. No advance booking is required – just drop in at the test drive area during the Music Cube events.
François Goupil de Bouillé, Infiniti Vice President for Europe, Middle East and Africa, commented: "Infiniti prides itself on designing cars to always be innovative. With test drives available from the Westfield sites we are able to demonstrate how this new technology can be fun, exciting and involving for the driver. Music Cube does the same for the music industry, delivering a new way to listen to live music during this unique and rewarding event."
Music Cube events at Westfield London (White City) run from Friday 24th October to Sunday 26th October, and at Westfield Stratford City from Friday 31st October to Sunday 2nd November.
*Test drives are subject to availability, and conditions apply.