Mazda6 diesels chase speed records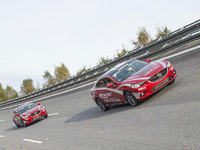 It was a rewarding weekend for Mazda the ATP test oval in Papenburg, Germany, as the company shattered 20 FIA speed records (subject to FIA homologation). Three of the convention-challenging carmaker's Mazda6 flagships powered by 129kW/175ps SKYACTIV-D 2.2-litre clean diesels completed a 24-hour marathon run on the high-speed track on Sunday, with the front car achieving an average speed of 137.37mph and the other two close behind. The current record for diesel-powered production cars (2.0-2.5 litre displacement) is 130.38mph. Each of the three Mazdas also set several other average speed records over a variety of distances (subject to FIA homologation).
At the wheel of the cars, which covered more than 3293.3 miles during the 24-hour period, were 23 drivers from seven EU countries. They included professionals as well as journalists and car enthusiasts, who could apply to take part as part of a campaign started by Mazda last May. During their 1.5-hour stints behind the wheel, they were not allowed to follow in the slipstream of a preceding car and needed to be exceptionally careful in the steeply banked curves at each end of the oval to avoid losing speed. Nevertheless, only 0.55mph of average speed separated the three Mazda6s after 24 hours – a tribute to the drivers and pit teams, which were made up of employees from various Mazda dealerships, but above all to the design, drivability and dependability of these cars even when pushed to their limits.
As popular as they are unconventional, Mazda's award-winning SKYACTIV-D clean diesels feature a 14:1 compression ratio, the world's lowest in a diesel engine. Available in the Mazda CX-5, Mazda6, all-new Mazda3 and coming soon in the all-new Mazda2*, demand for these high-output yet extremely efficient powerplants has been strong around the globe from day one and has not let up since. They have been successful on the track elsewhere, too: In mid-2013, a SKYACTIV-D powered Mazda6 became the first diesel to ever win a race at the legendary Indianapolis Motor Speedway in the U.S.
* New SKYACTIV-D 1.5 with 14.8:1 compression