A boutique coastal retreat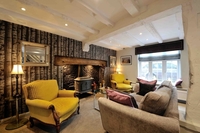 The Crescent Turner Whitstable, a new 18-bedroom boutique hotel, opens this week in the historic market town of Whitstable. The Crescent Turner, perched atop Wraik Hill, boasts vistas over Whitstable town and out to sea, encompassing the famed oyster beds and then stretching out over the Isle of Sheppey. One can't help, when viewing the sights from the hotel, not to be reminded of vistas evoked by JMW Turner's apparitions, such as his painting of the 'Seasalter Flats' capturing a group of oyster dredgers at low tide. The Interiors Marilyn Bridgen, a local designer, has aimed to create a contemporary vibe whilst conveying the Kentish seaside within the hotels interiors. The dining spaces and terrace are the perfect place for a bottle of rose looking out over the gardens to the sea, and the lounge and bar are filled with deep comfy sofas and surround the focal point of a large open fireplace. Take time to savour afternoon tea or a post-dinner brandy, enjoying the warmth of the fire and listening to the crackle of burning logs in the colder months of the year.
The hotels bedrooms are all individually designed, with luscious soft furnishings, many accompanied by extensive vistas out across the coast, and details such as exposed brick and nooks to while away the hours reading and relaxing are easy to find. With distinct designed headboards, each covered in a different fabric to create layers of interest, and each room featuring ornate mirrors and eclectic furnishings to complete the boutique aesthetic, the hotel is the ultimate boutique British bolt hole.
The contemporary seaside hotel has 18 individually designed bedrooms and an iconic Whitstable Beach Hut. Recently renovated, the 'Sundowner' comes complete with kitchen, BBQ, chandelier and 3 canoes for you to paddle out. This unique and relaxing space can be taken exclusively for the day, whether for basking in the sun and enjoying a BBQ, which the hotel can provide a private chef and foods sourced locally for you (a rock oyster on Whitstable Beach has to be one for the bucket list). And for those colder months, one can pop down to cosy up and take in a brisk walk, and if a breathtaking storm should appear, then you can head for shelter, watching the rough seas whilst enjoying a chocolate chaud or a delicious 3-course dinner.
The Food
New Head Chef Mark Kember is a Whitstable local having been born and bred in the town, where he then went on to chef at establishments across the UK for the last 20 years, including the Waldorf and Hilton Park Lane in London. Mark returned to Whitstable to live in the place he loves and bring his children up, where he grew too.
With a menu of classic British fayre with contemporary twists, Mark provides dishes such as Fillet of beef, potato fondant, smoked garlic and mushroom puree, Sea-bass, sweet potato hash brown and kale and rich desserts such as dark chocolate torte, berry soup and raspberry sorbet. Afternoon Tea is made from scratch (apart from the clotted cream!) where the strawberry, raspberry and fruit jams are made from local berries and the scones, sticky toffee sponge and carrot cake and sandwiches have been lovingly made in the Crescent Turner kitchen.
Produce is sourced locally to as much as possible, supporting local Whitstable suppliers Salvatori, West Whelks and Chapmans who will all help to ensure a local flavour. A trip to Whitstable would be incomplete with Oysters, enjoy Rock Oysters at the Turner, which are available from just the 1 (£1.50) to as many as you can fit, a challenge of the full 12 maybe, plain or with a chilli and mango salsa you can pair with a perfectly chilled Chenin Blanc, Riesling or Grillo, or Champagne. If you are to eat Oysters, surely it should be where you can see exactly where they have been collected from.
Whitstable
Whitstable is the family-orientated and fashionable seaside town – famous for its beach huts, Oyster Festival and quaint harbour. There is an eclectic and quirky mix of independent boutique shops and galleries, Whitstable Castle and an increasingly popular arts festival – the Whitstable Biennale.
Whitstable is vibrant and interesting all-year round, its main attractions include the famed Oysters of Whitstable, which have been a delicacy for over 2000 years, when the Romans discovered them and shipped the delicacy across Europe back to Rome. Once in abundance, the native Whitstable Oyster is a rare find, but a number of different species can be found and devoured in one of the many eateries dotted across the town, at back at the Hotel too. The Oyster remains an intrinsic part of the sea town's character, celebrated every July at the Oyster Festival.
The town's bohemian charm shines through, with independent craft and gift shops, galleries and fashion shops trading side by side with fishmongers, butchers, delicatessens and bakers. When you need to recharge, one is spoilt for choice with a wonderful selection of cafes, restaurants and gastropubs. Whitstable is one of very few beaches in the country which boasts a public house right on the seafront and there are wonderful walks in the Kent countryside and other pretty towns and villages to discover whilst staying at the Turner.
Whether you take the main route through the town or enjoy haphazard progress through quiet lanes and alleyways with eccentric names such as Squeeze Gut Alley, you'll end up at the working harbour. Constructed in 1831, the harbour has a varied history including diving, shipbuilding and fishing.
Along the coast at Tankerton, grassy slopes dip to meet the sea, throwing out an invitation to visitors and locals to walk along the promenade and take in the bracing sea air. Providing unsurpassed views of Whitstable's skyline the wide ridge of shingle entitled 'The Street', stretches out to sea, kept hidden only to be discovered when the tide is low.
The Crescent Turner aims to evoke a sense of intimacy and rich character synonymous with the coastal town of Whitstable – the perfect weekend getaway.
The Crescent Turner Hotel, Wraik Hill, Whitstable Kent, CT5 3BY
Classic Double's B&B from £99 per night for two
Deluxe Seaview Doubles B&B from £145 per night for two
Whitstable Christmas Break by the Fireside
Including Dinner, Bed & Breakfast on all days, with a sumptuous Christmas Day Breakfast and Christmas Lunch with highlights including confit guinea fowl terrine with celeriac remoulade, a selection of mains including the traditional roast turkey, chestnut stuffing, pancetta rolled chipolatas, roast potatoes, seasonal vegetables and puddings including spiced apple and ginger cheesecake – it's Christmas without the stress, with beautiful walks in abundance in the surrounding area too.
Arrive on the 24th December for 2 nights and enjoy Christmas without the fuss from £310pp for 2 nights and £370 pp for 3 nights.
For more information, visit bespokehotels.com/crescentturnerhotel