London Motor Museum's new customisation is a Scream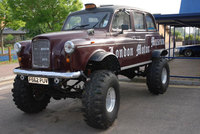 Popular tourist attraction, London Motor Museum, is unveiling a creepily customised car to celebrate Halloween.
The 'Scream' car began life as a FX4 London taxi which was modified in 2003. Elo and his team at the London Supercar Workshop took off the taxi body, fitted it to a Chevrolet Blazer chassis and added a 5.7l Chevrolet V8 engine along, with mud grappler monster tyres.
Over a decade later, the team decided to take the taxi one step further with a mysterious makeover, to coincide with the museum's anniversary.
Elo explained: "My chief fabricator, Mohammed Mugal and I decided that the modified taxi was the perfect base for an exciting Halloween truck, designed with trick or treating in mind.
We've not only changed the interior theme and bodywork, but also added a range of spooky yet entertaining features which will be unveiled at the launch on Halloween."
Once unveiled, the Halloween Scream car will be featured on London Motor Museum's new app which, when downloaded, enables visitors to discover the rich history of the attraction's collection thanks to a series of iBeacons situated throughout the venue.
With a wide range of images, videos and information, the app is available to download for free on iTunes and can be used not only at the museum itself, but also when models from the collection are in attendance at exhibitions and festivals.
For more information about London Motor Museum or the new app, visit londonmotormuseum.co.uk.