A tale of two festivals in the UK's next City of Culture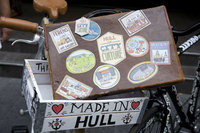 Heard the one about the city with two cultural festivals running at the same time?
You have now. It's Hull, the UK's next City of Culture, where literature and comedy top the bill.
November is the month for book-lovers to immerse themselves in everything literary, with 10 days of readings, workshops, exhibitions and performances across the city.
The Humber Mouth Hull Literature Festival runs from 7 to 17 November, and this year takes as its theme What's Going On – A Response To War And Conflict, inspired by Marvin Gaye's 1971 classic, written about the world's troubles at the time of the Vietnam war
Writers will head to Hull from the USA, Finland and Brazil as well as other parts of the UK, to appear at venues ranging from the Ferens Live Art Space and Hull History Centre, to the Central Library, Artlink and popular bars.
Among them will be Booker prizewinner James Kelman, author of How Late It Was, How Late, Icelandic poet; novelist and playwright Sigurður Pálsson and Finnish writer Katariina Vuorinen; poet, novelist and playwright Simon Armitage; and Adélia Prado, regarded as one of Brazil's most important poets while radio DJ Liz Kershaw will reveal the true tales of her life at the BBC when she reads from her autobiography, The Bird And The Beeb.
Flowing freely through Humber Mouth will be a river of performance, installations, music, history and life stories, from a replica of Dylan Thomas's writing shed, a photography exhibition and "Trombone Poetry", to workshops, collaborative storytelling, tales of war and conflict, and an analysis of the changing nature of football culture.
New Generation, a new literature festival for children and young people, will run in parallel to Humber Mouth with the aim of encouraging young writers and readers up to the age of 19 to get involved in growing the event.
While literature is being lauded throughout the city, Hull Comedy Festival will return at the same time for its annual laughter-fest, from 7 to 16 November.
The event has brought top-name comics and performers to the city since 2007 and this year includes the likes of Omid Djalili, Jon Richardson, Mr B The Gentleman Rhymer, Harriet Dyer, Gein's Family Giftshop, and local lad and former child magician Jack Gleadow.
For more details about Humber Mouth visit humbermouth.co.uk while for more details on Hull Comedy Festival, see hullcomedy.co.uk.
For places to stay and other things to do in the UK's 2017 City of Culture, visit visit-hull.com.