Classic & Sports Car Show launch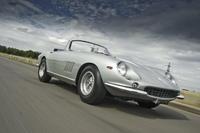 A spectacular international classic car event is set to take London by storm in 2015, bringing the most beautiful and priceless cars in the world to the UK capital.
The new show will be a cornerstone of the world-famous London Classic Car Week – currently comprising the London to Brighton Veteran Car Run, the Regent Street Motor Show and the Bonhams Veteran car auction – and will take place at the iconic Alexandra Palace from 30 October to 1 November.
Showcasing more than 300 motoring masterpieces displayed by the world's most highly regarded dealers and globally respected collectors, it will be London's only event specifically designed for buying and selling the finest classic cars.
Boosted by a classic car auction and a raft of special features, the unmissable event won't just be for multi-millionaires, however, and will provide a unique opportunity for anyone who appreciates classic cars to see so many rare and historically important vehicles in London.
The quality of the ground-breaking event is guaranteed thanks to the the team putting it together. It is being masterminded by Classic & Sports Car – the world's best-selling classic car magazine – and Haymarket Exhibitions, the award-winning powerhouse behind the huge Autosport International and Clothes Show Live events.
The new show will also be supported by Haymarket's other influential and market-leading motoring titles, including Autocar, Autosport, F1 Racing, Motorsport News, Autosport.com, PistonHeads.com, What Car? and Whatcar.com.
James Elliott, Classic & Sports Car's Group Editor, said: "Whether it be cars for sale, restoration services, classic car media or events such as the Goodwood Revival and Silverstone Classic, Britain is the undisputed leader of the classic car world. We are incredibly proud of that fact and want to shout it from the rooftops, yet, shamefully, the nation's capital has not hosted an event to reflect this amazing status since the 1990s.
"We are going to put that right with this exciting new show, which will reinstate London's rightful place as the epicentre of the world-wide classic car industry. It will attract the biggest names from the global classic car scene and, of course, there is no more appropriate setting for these moving works of art than the equally historic and much-loved Ally Pally."