New Laura Ashley Hotel celebrates multi million pound refurb in glitzy Gatsby style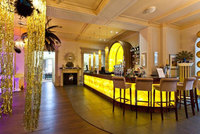 Laura Ashley's new luxury hotel showcased its multi-million pound refurbishment this weekend in a glitzy Great Gatsby extravaganza.
The Belsfield, which overlooks the waters of England's largest lake –Windermere - in the Lake District, opened its doors to the travel and business industry for an evening of 1920s splendour.
Guests clad in black tie and flapper dresses enjoyed feathered stilt walkers pouring champagne, vintage cars, 1920s cocktails and more as they danced the night away to a live swing band.
They dined on a lavish menu which included handpicked white crab with a crayfish martini, moonshine granite and a 'Big Apple' dessert, and washed it down with Blooms of London gin and whisky from the Lakes Distillery.
Stan Laurel and Oliver Hardy lookalikes even made an appearance!
The grand Victorian hotel was celebrating its recent partnership with Laura Ashley, which saw the English design company completely renovate the building, making it only the second Laura Ashley branded hotel.
The company's fabrics, furniture and fittings are brimming throughout the building and an architect-designed glass reception has created a magnificent arrival to the Grade II listed hotel.
Business development manager Joe Nichols, who organised the event, said: "We chose the 1920's theme because it fitted the elegance of the refurbishment, and the opulence of the era gave us a the opportunity to create an incredible party.
"We really wanted to showcase the incredibly exciting changes that the hotel has gone through with Laura Ashley, and to celebrate all the work that has gone in to the project, and we wanted it to be done in an engaging way."
Head designer Kay Cullen, who displayed a 'concept to completion' exhibition at the party, said seeing people enjoy the hotel made all the hard work worthwhile.
She said: "The project has taken a year to complete and I have lived and breathed the hotel in that time, but it's worth it when you see it celebrated by all these people.
"I was completely inspired by the building and fell in love with it from the beginning – the potential was just amazing.
"The decor has a modernity to it now but I always kept in mind the building's origins. It's an eclectic mix of classics and vintage while bringing it up-to-date."
The hotel has been renamed 'Laura Ashley The Belsfield Lake District', but continues to be operated by the Corus Hotels group.
Visit lauraashleyhotels.com/thebelsfield/