Enhanced off-road capability for Range Rover and Range Rover Sport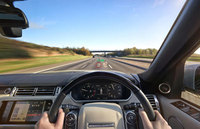 Land Rover has announced a comprehensive series of updates for the Range Rover and Range Rover Sport, further enhancing the world's best luxury and premium sporting SUVs. The revisions include Land Rover's innovative All-Terrain Progress Control system, a world-first technology which complements and further improves the Range Rover's already class-leading off-road capability. Significant gains in both performance and efficiency are achieved through enhanced six-cylinder diesel engines. For added convenience, Head-Up Display (HUD) projects key driving information onto a small area of the windscreen, while one eye-catching new paint colour update the exterior colour palette.
'Range Rover and Range Rover Sport offer an unrivalled combination of performance, efficiency, design leadership and off-road capability,' says Phil Popham, Group Marketing Director, Jaguar Land Rover.
'Our latest updates capitalise on these strengths, with our ground-breaking new All Terrain Progress Control, along with extra-efficient six-cylinder engines, which underline Land Rover's commitment to sustainability.'
All-Terrain Progress Control for peerless off-road capability
Class-leading off-road capability stands at the core of every Land Rover. Now All-Terrain Progress Control (ATPC) is being introduced to further complement the Range Rover and Range Rover Sport's highly accomplished four-wheel-drive chassis.
ATPC allows the driver to input a desired speed, either from rest or an existing speed, without any pedal inputs once the brake is released. The system continuously monitors and adjusts the vehicle settings to optimise traction and maintain progress in all conditions.
ATPC reduces driver workload to enhance Range Rover's world-renowned off road capability, maintaining composure over steep gradients, rough terrain and low-grip surfaces. It is particularly beneficial in challenging off road environments where a very low constant speed is desirable. ATPC works both in forward and reverse gears and is operational from 1mph to 19mph (1.8km/h to 30km/h).
Available on Range Rover TDV6, Range Rover Sport SDV6 (not including SDV6 Hybrid) and all V8 Supercharged derivatives*, Range Rover and Range Rover Sport are the first models to feature this new technology.
* When specified with dual-range transmission and Terrain Response® 2
Cleaner engines, increased performance
The impressive performance and fuel economy of Land Rover's 3.0-litre six-cylinder engines has been enhanced still further. Previously equipped with twin-turbocharging technology, Range Rover TDV6 derivatives now adopt a ball-bearing single turbocharger. Along with Low Pressure Exhaust Gas Recirculation (LPEGR), a two-stage oil pump that reduces parasitic engine losses and a revised design of fuel-injector nozzle, the TDV6 continues to produce 258PS / 190 kw and 600Nm. Fuel efficiency, however, significantly increases: TDV6 improves by an impressive 8.5%.
Range Rover Sport SDV6 derivatives retain parallel-sequential turbocharging, but detail calibration changes increase performance to 306PS / 225 kw and 700Nm, increases of 14PS and 100Nm respectively. LPEGR, a two-stage oil pump and revised fuel-injector nozzles also increase fuel efficiency. The result is a pronounced 7.0% improvement at 40.4mpg/7.0 litres per 100km and 185g/km.
Head-Up Display
Head-Up Display (HUD) debuts on Range Rover and Range Rover Sport, projecting key information onto the windscreen. It allows drivers to view relevant information more quickly without glancing away from the road.
HUD data includes vehicle speed, gear position and shift indicator, cruise-control information, satellite-navigation instructions and Traffic-Sign Recognition. For maximum convenience, the driver can pre-select which information is displayed.
Increased personalisation options
Both Range Rover derivatives are now available with an updated colour palette featuring the striking Yulong White.