Popular classic and supercar show expands for 2015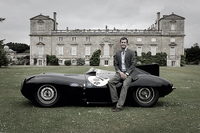 Rising interest in classic and supercars has prompted organisers of one of the country's leading shows to double its event from one day to a whole weekend.
For 2015 the Wilton Classic and Supercar Show, held in the grounds of Wilton House in Wiltshire, will offer enthusiasts more time, more cars and a brand new interactive element to get as many people involved as possible.
Due to be held on June 6/7 2015, the show has become one of the most popular dates in the classic and supercar calendar with the ancestral home of the Earl of Pembroke providing a dramatic backdrop.
The Wilton Classic and Supercar Show has run successfully for six years as a one day event but Lord Pembroke said an extra day is being added to cater for the phenomenal interest in this kind of event.
"Every year we get more visitors and more exhibitors wanting to be part of the show and by adding an extra day we can accommodate more enthusiasts and introduce a range of new initiatives,'' said Lord Pembroke, an avid car collector and racing driver.
Plans for 2015 include the legendary parade of supercars together with the popular Head to Head feature which pits some of the world's greatest cars against their rivals. The event will also mark the 10th anniversary of the Bugatti Veyron with a display including Lord Pembroke's Veyron.
New for next year will also be a focus on the armed forces with Lord Pembroke keen to honour the motoring aspects of the army, navy and RAF.
"Wilton House has strong military links having been the Southern Command headquarters for Operation Overlord in World War II,'' he said. "We are in an important military area of the country and want to recognise the tremendous efforts of our armed forces.''
Also new for 2015 will be a range of interactive attractions with everything from wheel changing to restoration projects currently being finalised.
Tickets for the 2015 event will be on sale from December 1 – log onto wiltonclassicsupercar.co.uk.