Heritage Motor Centre hosts Community Open Day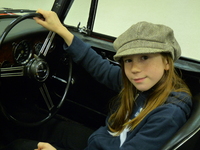 The Heritage Motor Centre welcomed several local clubs and organisations to a Community Open Day on Saturday 8 November. Visitors, including invited youth groups, Explorer Scouts and Women's Institute members, spent the day trying out a 'build your own car' craft activity, testing their driving skills on the scalextric track, sharing their personal 'car story' and hearing about the new Museum Collections Centre which will open at the Heritage Motor Centre next Autumn.
The recently appointed Community Engagement Officer, Adela Thomas, stated "It was exciting to welcome new visitors and groups to the Heritage Motor Centre. We are aiming to actively involve local community groups in future exhibitions, projects and programmes here and at our new Museum Collections Centre. We were delighted to see so many groups respond enthusiastically to our car collections".
Comments from visitors on the day included "It was memorable and enjoyable", "It was great to relive the past" and "I found my first car - a Hillman Imp - which bought many memories flooding back".
A new project, 'Car Stories' is now underway which explores the human stories relating to cars and how they can shape our life experiences. The project will result in a vibrant community exhibition which will feature in the launch of the new Museum Collections Centre next year.
If your local group would like a visit from the Heritage Motor Centre community engagement team, which will include a talk about the work at the Centre as well as an opportunity to handle objects relating to the history of the motor car from the museum archive, please call Adela Thomas, Community Engagement Officer, on 07857 349904.
To find out more information about the Heritage Motor Centre please visit the website at heritage-motor-centre.co.uk.