Skoda Citigo pips rivals to scoop 2014 Green Apple Award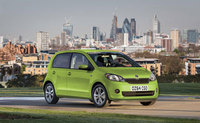 Skoda has enjoyed a fruitful time at 2014 Green Apple Awards with the Citigo collecting the award for Best Supermini. The frugal, low-emissions Czech city car pipped rivals to clinch the title in the majestic surroundings of the House of Commons in London.
The Green Apple awards are run by the Green Organisation, an independent non-profit body that rewards environmental best practice. Judging was performed by members of the Midland Group of Motoring Writers, who singled out the Citigo for its quality, economy and value.
One Green Apple Awards judge said: "The Skoda Citigo offers a great drive, is thoroughly practical and has low fuel consumption." Another added: "The Citigo is the perfect demonstration of how a car can be economical, inexpensive, beautifully built and a pleasure to drive."
Low running costs and minimal emissions have been at the core of the Citigo's appeal since its launch in 2012. Offered with a choice of two highly economical engines, CO2 outputs start at just 95g/km, while fuel economy of 68.9mpg is possible on the combined cycle. Prices for the Citigo range start from just £8,210.
The Citigo's award marks the fourth year in a row that Skoda has triumphed at the Green Apple Awards. The judging panel awarded top marks to the Yeti in 2011, 2012 and 2013, and has consistently praised Skoda's passion for building affordable, low emissions cars.
Commenting on the Citigo's latest award, Alasdair Stewart, Brand Director for Skoda UK, said: "We're delighted to accept this award for the Citigo. Low running costs and reduced emissions are key factors in the development of all Skoda products, and this award for the Citigo recognises the advances we're making in both areas."
The Green Apple Award is the latest in a long line of prestigious titles won by the Citigo. In 2012 it was awarded Car of the Year by Auto Express, along with the 2012 What Car? Green Award and the 2013 Driver Power Best Small Car title.