'Tea Tails' at Min Jiang: Chinese tea cocktails for the winter months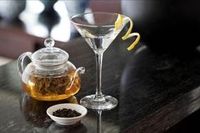 Following their success earlier this year, Min Jiang Bar is delighted to announce the return of Tea Tails, a selection of exquisite alcoholic tea cocktails served hot for the colder months. Created by Felicity Hall, manager of the authentic Chinese restaurant, the cocktails are made with finest Chinese teas together with a blend of spirits, liqueurs and fresh ingredients to complement their flavours. Each one is served together with a freshly brewed pot of the accompanying tea. Guests then mix their drinks to taste, topping up regularly with piping hot brew if desired.
The Tea Tails are made with Oolong, jasmine scented and chrysanthemum seed infusion teas:
The Oolong Tea Tail is a blend of Havanna Club 7 year old rum, Malibu coconut rum and a slice of orange, together with Spring King Oolong from Fujian province.
The Scented Tea Tail sees delicate Forbidden Dragon Pearl jasmine tea mixed with vodka and lychee liqueur with a twist of lemon for an aromatic blend.
The Infusion Tea Tail blends chrysanthemum seed infusion tea with Courvoisier VS Cognac, a dash of sugar syrup, Angostura bitters and a twist of orange.
Each tea is thought to have distinctive properties: Oolong is known for its cholesterol-busting and body-cleansing properties, and it also aids digestion, whilst Jasmine tea is a centuries-old remedy for relaxing the body and mind. Wild chrysanthemum seeds are renowned for their anti-toxin properties, and are also good for the complexion.*
Min Jiang restaurant serves cuisine from some of China's most famous gastronomic provinces, and is renowned for its signature dish, wood fired Beijing duck, excellent dim sum and Sichuan dishes. It is also much loved for its desirable location on the tenth floor of the Royal Garden Hotel, overlooking Kensington Gardens. The restaurant launched in 2008 to excellent reviews and was awarded three AA Rosettes in 2009. Open for lunch and dinner seven days a week, Min Jiang is one of the top choices for high end Chinese dining in London and one of the capital's most successful restaurants.
Min Jiang, Royal Garden Hotel, 2-24 Kensington High Street, London W8 4PT
W: minjiang.co.uk
*Refers to the teas' reputations in popular culture. No consensus on the health properties of tea has yet been reached in scientific literature.