Alexander & James Presents Christmas with The Ivy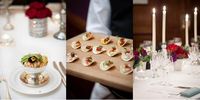 This Christmas, Alexander & James (A&J), the luxury online shopping platform for drinks connoisseurs and gift buyers, has partnered with one of London's best loved restaurants, The Ivy. Together they are offering the exclusive festive package – Alexander & James Presents Christmas with The Ivy – which brings the assured quality of this world-renowned restaurant directly to your home.
A delicious three course menu created by The Ivy's Executive Chef, Gary Lee, will be served and paired with a selection of cocktails created using the finest spirits by resident Alexander & James Mixologist, Kenji Jesse. During the busy party season, this unique dining experience is the perfect solution for throwing a memorable festive event without any of the stress.
A uniquely British institution, The Ivy is renowned for its unmatched service and intimate atmosphere, as well as its unique menu. Bringing this ethos to the festive package, all the party host and guests need to do is sit back and enjoy the exquisite food, paired with A&J's finest spirits served by one of the UK's best bartenders. Created especially for this festive experience, the menu features choices such as seared scallops with cauliflower mousseline & maple bacon crisps, Beef Wellington with wild mushrooms, wilted spinach & Madeira jus and chocolate panettone crunch bombe with mandarin – dishes that are sure to tantalise all taste buds.
To start the night, the mixologist will prepare a refreshing apéritif, followed by a range of delicious and unique serves, ensuring there is something to appeal to all tastes. From the unusual Chocolate Old Fashioned to the classic Manhattan, each cocktail has been created specially to complement as well as heighten the flavours and aromas of The Ivy's Christmas-inspired menu.
A limited number of luxury festive packages for up to 10 people is available from October until the end of the year, subject to availability and excluding Bank Holidays, costing up to £4,500.
Prices include canapés, a full three course dinner, crockery, cutlery, napkins, table cloth, spirits, mixers, accessories, glassware, tea/coffee, bar accessories and serving staff. Prices vary depending on the size of the group.