I'm a Celeb: Seven jungle hotels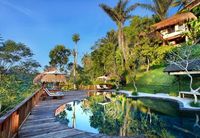 As I'm a Celebrity... Get me out of Here! returns to our screens, we can expect the nation to come down with its annual case of Jungle Fever – for the next three weeks, viewers will be glued to their screens watching celebs squabble in the camp and digest various animal parts. But those who long for a more serene jungle experience can now opt for a relaxing escape instead, as more and more travellers look to explore luscious green tropics without leaving luxury far behind.
Why not take a dip in an infinity pool in the middle of a Balinese jungle or soak in a Jacuzzi high up in the canopy of a rainforest? Compiled by hotel search website trivago.co.uk, these seven beautiful hotels are located in jungles around the world. Surrounded by stunning greenery and thriving nature, these hotels offer guests a totally unique taste of the wild side – without a Bushtucker trial in sight.
1. Royal Pita Maha – Ubud, Bali, Indonesia
The Royal Pita Maha is tucked away on the edge of Ubud, offering a jungle retreat in the heart of Bali's dense forest. Guests may never want to leave this resort, which is spread over 12 acres and features private villas, three swimming pools, the renowned Kirana Spa and two gourmet restaurants. Built into the sloping valley walls, the hotel offers breathtaking views of the sun rising and setting over the rainforest canopy. Royal Pita Maha showcases local artistry throughout, including the offer of traditional activities such as yoga, painting and fruit carving.
2. Rayavadee – Ao-Nang, Krabi Province, Thailand
Located on the edge of Thailand's Krabi Marine National Park, Rayavadee Hotel is edged by three stunning beaches: Railay, Nam Mao and Phra Nang (featured in the film The Beach). The 98 private pavilions are surrounded by palm trees and furnished with teak wood, promising the ultimate jungle getaway. Guests should not miss the pool area, surrounded by tall cliffs, tropical gardens and coconut forests, and the alfresco restaurant – tucked inside a limestone cave on a white sand beach.
3. Banyan Tree Bintan – Lagoi, Indonesia
The Banyan Tree Bintan Hotel and Resort is located on the island of Pulau Bintan, a 45-minute ferry ride but a world away from the urban jungle of Singapore. The private villas, complete with private pools, are located between the natural forest and the coast, boasting views of the South China Sea. The resort contains a Spa, swimming pool, 18-hole golf course and dining on the beach and on the rocks, with a choice of Southeast Asian, Western and Mediterranean cuisine.
4. Six Senses Yao Noi – Phang Nga, Thailand
Six Senses Yao Noi is located on a small island in the Phang Nga Bay between Phuket and Krabi, accessible by boat or helicopter. A range of accommodation options are available, from suite villas to multiple room villas, ideal for friends and families. Each villa features a private pool and views of the plantation or the iconic limestone pinnacles of Phang Nga Bay. Resort highlights include catered yachting trips and the Hilltop Reserve, a restaurant venue perched atop the resort, complete with Thai dinner menus and an infinity pool.
5. Tortuga Lodge & Gardens – Tortuguero, Costa Rica
Found on Costa Rica's beautiful Caribbean coast, the Tortuga Lodge & Gardens is situated in Tortuguero National Park. Accessible only by plane or boat, the park is a remote tropical paradise known for its biodiversity and unique ecosystem. Located on one of the rainforest's many slow-moving rivers, the Tortuga Lodge & Gardens is a serene resort offering guests style and comfort. Visitors can enjoy the spectacular views from the hotel's outdoor pool or explore the surrounds on one of the many activities on offer – including a turtle hatching expedition.
6. Belmond La Residence d'Angkor – Siem Reap, Cambodia
Located on Siem Reap's tree-lined river, the gateway to the temples of Angkor War, La Residence d'Angkor is a haven for all jungle-lovers. The resort's Kong Kea Spa offers guests the ultimate tranquil environment for relaxation with traditional touches – the spa embraces ancient Cambodian healing practices, including traditional water blessings with Cambodian monks. Meanwhile, guest rooms offer sweeping views of the lush foliage surrounding the hotel.
7. Canopy Treehouses – Cairns, Australia
Located in the heart of the Cairns Highland jungle, The Canopy Rainforest Treehouses are more than just luxury accommodation – the eco-resort also functions as a wildlife sanctuary. The dwellings are set in 100 acres of ancient rainforest, which are reserved for the private use of guests. The six treehouses are constructed using natural materials to blend in seamlessly with their surroundings. Equipped with two bedrooms, a self-catering kitchen, Jacuzzi and a balcony with BBQ and hammock, the huts allow guests to get as close to nature as possible.
For more information, visit trivago.co.uk.