Single parent holidays with Baby Friendly Boltholes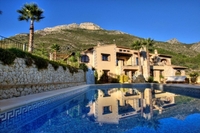 Baby Friendly Boltholes is reporting an increase in enquiries from single parents who are looking for holidays that combine style and luxury with child- and baby-friendly facilities, but are also perfect for lone adults.
Baby Friendly Boltholes founder Sian Williams says: "Like all responsible mums and dads, single parents can spend a long time researching the perfect hotel or resort that is child-friendly and has plenty to keep the youngsters entertained.
"Yet often, although the kids are having a whale of a time, once the sun's going down and little ones are tucked up in bed, single mum or dad can find themselves stuck on their own and yearning for some adult company.
"Slightly older children might be having fun with their new-found friends at the kids' club dinner or mini-disco, while single mum or dad is eating dinner at a table for one. It can be a little lonely.
"Baby Friendly Boltholes believes single parents deserve a relaxing, enjoyable holiday just as much as anyone else, so we have hand-picked some getaways that combine style, luxury and child-friendliness yet are sociable so that single parents don't feel that they stand out like a sore thumb. Here, parents can mix in with other adults as much or as little as they want without feeling under any pressure.'
Baby Friendly Boltholes' suggestions include:
Valencia, Spain
Caserío del Mirador combines elegance and style with laid-back atmosphere and warm hospitality offered by its owners, Sarah and Johnny Robinson and their three youngsters. Guests can be as sociable or self-contained as they wish, as the apartments and suites have kitchenettes for self-catering while Sarah also serves delicious rustic Spanish cuisine, delivered to terraces or enjoyed as sociable kids and adult suppers over the beautifully lit pool. B&B rooms are available in the main building, which is also the location for impromptu kiddie arts and crafts sessions. For children, there are play areas, a sandpit, animals including goats and a miniature pony. In-room beauty treatments and massages can be pre-booked.
Price: From £1,300 for seven nights in a suite for two people plus infant/toddler.
Limousin, France
All rooms in Chateau Ribagnac, a fairytale French chateau, are individually styled and little ones will love sleeping in their very own prince or princess-style bedroom. The property is set in 86 acres, with nature trails, wooded walks and outdoor games. The children's dinner is a sociable affair for adults and their offspring, while adult meals are sophisticated but unfussy and eaten communally within baby monitor range of the bedrooms, allowing parents some valuable grown-up time. A full bar service in the lounge allows for further socialising, or quiet relaxation in one of the many reading nooks set amongst the turrets. Suites sleep from 2-5 people.
Price: From €130 for a short break; €910 for seven nights.
All prices are correct at writing, subject to availability.
For more information, visit babyfriendlyboltholes.co.uk.