Casio backs F1 stars of the future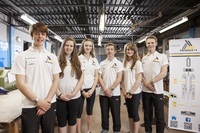 As the official timing partner of the Infiniti Red Bull Racing team, watchmaker Casio is no stranger to the heady world of F1 talent. Recently however, the Japanese brand has been investing in the future stars of tomorrow's F1 paddock, by sponsoring a talented group of students in their bid to take on the world in a global engineering challenge.
Running under the team nomenclature of 'Colossus F1', the six students, from the Robert Mays School in Hampshire, have worked together to design, manufacture and test a scale gas-powered F1 car, which will compete against similar machines at the World final to be held in Abu Dhabi in November. Engineering isn't the only factor here, interestingly, as pupils also had to prepare a concise and realistic business plan, as well as devising a suitable budget and raising sponsorship to allow them to take part in the competition. Now that is preparation for a career at the sharp end of motorsport!
Getting through to the final has been no mean feat for the team involved. More than 40 countries have been competing worldwide, with over 20 million students taking part in their bid to be in the final. Robert Mays has considerable form here though, placing well in the F1 for School competition in previous years. This year's team has the worthy accolade of being accredited as English Champions, which bodes well for the challenge ahead.
The competition itself is a non-profit organisation which aims to educate and inform children whilst shifting perceptions of science, engineering, technology and maths through an innovative and involving educational experience. With the glamour, prestige and aspirational standards of F1 as its central theme, it captivates students in a way that truly engages them, teaching them life-long career-enhancing skills whilst also developing teamwork and communication.
The team's best result to date has been an impressive podium finish with a project called 'Rush' in 2012 netting them a global 3rd place, but this time, under the watchful eye of Head of Technology, Philip Cain, the team are definitely eying up an outright victory.
Commenting on the sponsorship of these up-and-coming engineers, Casio UK Head of Marketing, Tim Gould said, "It's a real privilege to be involved at the ground level with such talented and inspiring young engineers. The students at Robert Mays clearly have a passion for what they do, and their latest design looks fantastic and works brilliantly. F1 is an important proving ground for many Casio products as it demands the very highest levels of engineering and timing precision. The skills required when designing solutions for this most demanding of sports will stand the team in great stead, whatever they chose to do next."
For more details on Edifice watches, visit edifice-watches.co.uk.