4G from EE live in the Channel Tunnel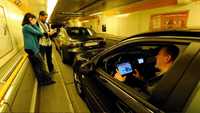 EE, UK mobile network operator, has confirmed that its 4G service is live in the Channel Tunnel, and 282GB of data has been carried since the installation was completed on the 24th September.
More than 25,000 EE customers have connected to the network in the last two months. Peak 4G download speeds of 57 Mbps have been delivered, with an average of 13.5Mbps.
EE CTO Fotis Karonis said: "Our 4G rollout has changed the mobile landscape in the UK, and we're very proud to have been the first UK operator to put superfast data 75 metres underground in the Channel Tunnel. We've been watching the performance of the network for the last two months and we've now delivered a great data experience to more than 25,000 customers, and made a real difference to people commuting and going on holiday."
The EE network, which also supports 2G and 3G, is live in the tunnel from the UK to France. The 4G network lets customers stream HD video, download large files, and use video calling services, all while 75 metres underground, travelling up to 99 MPH during the half hour journey.
For more information, visit ee.co.uk.