Get ready with a Skoda Winter Health Check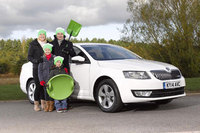 With winter fast approaching and a downturn in the weather being predicted, Skoda owners across the UK are being offered expert vehicle health checks to make sure they beat the impending freeze.
Breakdown organisations report a significant jump in call-outs, particularly for home-start issues during the winter months.
For just £25.00, Skoda retailers up and down the country are offering an exclusive seven-point vehicle check covering the vital aspects for winter safety and ensuring these statistics stay low.
As part of the offer, which is available until March 2015, drivers opting for the Skoda Winter Health Check will also receive a free snow shovel or sledge to ensure drivers are prepared should it snow this winter.
They will also be entered into an exclusive online draw, with prizes including £100-worth of John Lewis vouchers.
Expert Skoda technicians will check all the aspects that are most required in the winter months. These include:
1 Lights
These are checked for any blown bulbs and beam alignment so that drivers have the best visibility, critical during the short winter days and long winter nights.
2 Wiper blades
Severe weather, plus dirt and grit put a heavy burden on wipers, so the technicians will make sure they're in good condition, ready to handle the winter.
3 Windscreen washer fluid
A clean, clear windscreen means better visibility. The vehicle will be topped up with the correct screen-wash fluid that's able to cope with plummeting temperatures to prevent any dangerous freeze-ups.
4 Brakes
Responsive brakes are essential year-round. Discs, pads and fluid levels are inspected as part of the check to ensure perfect operation.
5 Air-conditioning
Air-conditioning doesn't just keep the car cool in summer, but it also de-mists the windscreen more quickly and maintain visibility.
6 Battery
Cold weather puts a greater strain on the battery, so this is checked to make sure it's up to strength.
7 Tyres
Technicians will check the condition of your tyres to make sure they're not only legal, but also up to the job of coping with the wetter months. Skoda retailers will also be able to advise customers should they wish to switch to winter tyres.
For more information about how to book a Skoda Winter Health Check, visit skoda.co.uk.