Grenada to host Chocolate Fest 2015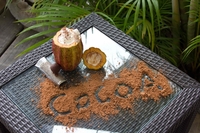 Indulge in chocolate Grenadian style at the Grenada Chocolate Fest from 8 to 17 May 2015.
Grenada is one of the few places in the world where cocoa is grown and turned into chocolate using traditional methods, so the Fest will follow the journey cocoa takes from 'tree' to 'bar'.
Highlights include the chance to be a farmer for a day on an organic cocoa farm learning how to pick cocoa pods, harvest the beans and prepare them for processing. There is also the opportunity to design and create a chocolate bar under the guidance of the team at the local Diamond Estate Chocolate Factory. There is even a workshop extolling the health benefits of chocolate.
Throughout the event there are chances to sample chocolate. These include sampling locally brewed chocolate beer and rums, chocolate-inspired cocktails, local cocoa tea and chocolate themed meals. One day local cooks, Esther and Omega will guide people through the process of preparing their own chocolate inspired lunch.
The Chocolate Fest includes opportunities to explore Grenada such as hiking through a cocoa plantation or taking a field trip with local school children to learn about the history of cocoa and chocolate and the importance of having a sustainable farming community.
Families can take part in traditional activities such as 'dancing the cocoa', 'walking the cocoa' and 'scooping the cocoa' on a fun day at the Belmont Estate.
Art, jewellery and fashion inspired by cocoa and chocolate will be showcased at a special arts and crafts bazaar and fashion show.
The Fest will round off with a charity gala dinner featuring dishes prepared by some of the leading chefs in Grenada.
The Chocolate Fest is being hosted by True Blue Bay, a boutique resort tucked away on a hillside on the south coast of Grenada with all rooms enjoying views of the sparkling sea.
Holidaymakers can participate in individual days with prices starting from US$36 for adults and US$20 for children. Some events are free for those staying at True Blue Bay.
Caribtours (caribtours.co.uk ) offers 7 nights at True Blue Bay from £1,221 per person, based on two adults sharing a True Blue Style Room on a bed and breakfast basis, including return scheduled flights from Gatwick and private transfers. A US$300 coupon book offering vouchers for discounts and offers at restaurants, spa, shops and diving at the resort and other outlets nearby. Price based on travel in May 2015.
For more information visit chocolate.truebluebay.com.