Italy's most unusual Christmas market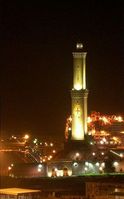 The city of Genoa on the Italian Riviera has one of Italy's most unusual Christmas markets. Held throughout December in the historic centre, the annual Genoa Christmas market is completely themed on the medieval era. It is the perfect break for those looking for a last minute Christmas market getaway in a lesser known city break destination.
The Genoa Christmas Market takes over the entire Piazza Caricamento in the historic centre. The square is transformed into a medieval village, set around the year 1,000 AD and sees about 100 artisans and craftsmen, all dressed in medieval clothes, display their skills to visitors. As well as the stalls there is a real farm with cows and donkeys that children are taught to milk. Visitors can buy local produce including wine, cheese, meats and handmade crafts and watch the shows on the central stage, which include dancing, choirs, medieval storytelling and musical performances.
As well as the Christmas market, visitors can explore the UNESCO World Heritage historic centre. Only possible to explore on foot, the maze of narrow, winding streets are full of history from the 12th century San Lorenzo cathedral with its unusual black and white façade, Christopher Columbus' childhood home and the 42 sumptuous 16th and 17th century palaces lining the streets. The regenerated port area has Europe's largest aquarium and a huge glass biosphere full of tropical plants and animals. For Genoa's best views, the funicular can be taken up into the hills surrounding Genoa or visitors can climb the many steps up the Lanterna lighthouse, which is the fifth tallest traditional lighthouse in the world.
BA Holidays offers a three night stay in Genoa for £268 per person. This includes accommodation in a premium room in the five star Melia Genova, return flights from London Gatwick and breakfast. For bookings: britishairways.com