80 years on: Heritage, technology and trophies for F G Bond & Son's unique FH drawbar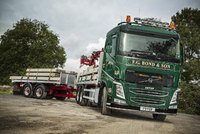 Much-respected haulage company, F G Bond & Son, from Marshfield, near Chippenham, is eighty years old this year. To celebrate this momentous achievement in the transport industry, the family business has recently put a high-spec, uniquely liveried, highly individual, new Volvo FH drawbar rigid into service that is turning heads across the country. The 6x2 prime-mover was supplied by Volvo dealer Truck and Bus Wales and West.
F G Bond & Son operate a mixed fleet of sixteen trucks. Their first Volvo was purchased ten years ago. It was a 6x4 tipper, which Director Edward Bond describes as having been 'bullet-proof'. Reliability of the Volvo trucks operated over the years, says Edward, continues to be an important factor in F G Bond & Son's on-going relationship with the marque.
The latest FH to join the fleet is equipped with Volvo's D13K, Euro-6, 13-litre engine, rated at 500hp. The carefully spec'ed aluminium bodywork, which was built by TWR at Cullompton, Devon, is fitted with an Atlas 105.2 crane, mounted at the rear of the 6x2 prime mover's chassis.
The drawbar outfit typically operates at 41 tonnes GTW. Edward reports that they worked very closely with Volvo Trucks sales engineers and the Volvo Bodybuilder programme, to ensure, among other things, that the rear overhang was calculated accurately, to accommodate the crane installation.
Attention to detail on the chassis, bodywork and the smart green livery is equally impressive from any angle. This is a truck to which photographs struggle to do justice. Close inspection is vital and reveals a myriad of quality finishes to even the humblest of components.
The front panel, and even the Euro-6 exhaust installation cover and the fuel filler cap are exquisitely finished in gleaming metal-flake paintwork. Durabrite wheels not only save weight, but also help the overall, surprisingly subtle impression of highly polished details. It's fair to say that F G Bond & Son have found a unique way to make a traditional livery look totally up-to-date.
Unusual and individual touches include the highly polished badge on the front of the cab proclaiming the legend 'BETER'. This is a subtle, tongue in cheek, take on the 'SUPER' logo which owners and drivers often added to the front of another Swedish truck make in the past.
F G Bond & Son, says Edward, attend around 5 to 6 truck shows a year. A massive display of truck show silverware, earned over a 25-year period since they first attended Truckfest at Shepton Mallet in 1989 and got bitten by the bug, is displayed in the 'shop' window of their stone built high street offices in Marshfield. This impressive cabinet is lit at night and is a visual and frankly amazing testament to the company's pride in their trucks.
The company won 'Best Working Truck' at Truckfest Peterborough in 2014. Later, the Classic FH sister to the new truck, was awarded the Martin Phippard Trophy at Truckfest South West and Wales. The show was held at Malvern in July and F G Bond & Son won it for 'Best Volvo at the show'.
The trophy is awarded in memory of former Volvo employee, transport industry stalwart and friend to many, Martin Phippard, who tragically passed away in 2013 after a struggle with Motor Neurone disease. It was presented to F G Bond & Son by Volvo Trucks Managing Director Arne Knaben.
In addition to delivering formed concrete products, F G Bond & Son also transport granite for high quality architectural details and even domestic kitchen worktops. Truck, bodywork and crane have to work perfectly together as access to delivery points is sometimes very tight, says Edward: "We take a lot care to ensure we operate the right equipment and have the right driver for this demanding job."
F G bond have also transported high value, specialist and unusual loads, from church bells to sculptures. The bells, which have been carried on numerous occasions to the famous Whitechapel foundry, weigh several tonnes each.
By careful specification and application of lashings of loving attention to detail, F G Bond & Son have created what is truly a 'statement truck'. Most remarkable is that this is not a top horsepower 'Big Hitter' tractor unit, but a neat and extremely tidy, working 6x2 rigid. This FH is most definitely a 'stand out' vehicle that is bound to find favour with show visitors and those who appreciate a superbly turned out machine.