The new Volvo FL with 4x4 - For both urban and gravel roads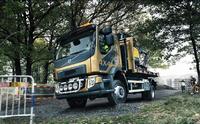 The popular Volvo FL is now available in a four-wheel drive (4x4) version for service and off road applications.
A compact and manoeuvrable truck, offering high comfort and high torque, the Volvo FL is ideal for both urban and off road applications. With four-wheel drive and improved ground clearance, it drives equally effectively on pitted gravel paths as on asphalt roads.
"The Volvo FL with four-wheel drive with its 2.1m cab, and wheelbase options from 3350mm to 4100 is compact and versatile and can perform challenging service tasks on all types of road surfaces," says John Comer, Product Manager at Volvo Trucks UK & Ireland.
Support for construction equipment
The Volvo FL 4x4 is designed for the service sector for those who require off-road capabilities in a compact distribution truck looking to cater for payloads of 6-8 tonnes. The new 4x4 range is available at 12-, 14- or 16-tonnes GVW, offering a wide choice of loading capacities. To cater for such diverse sectors as cherry pickers, cranes and fire tenders, the FL 4x4 is available with a day cab, a three-person comfort cab with the option of bench seat or a seven-seat four-door crew cab.
As John Comer adds, "The most noticeable difference with the new Volvo FL with 4x4 is the raised off road defined chassis and 22.5" wheel, which increases its ground clearance by just over 6 cm at the front and 10 cm at the rear. The higher chassis also increases the vehicle approach angle to 25 degrees, making it easier for the truck to drive out of ditches or deep ruts."
FL 4x4 Driveline and Four wheel drive with low gear
When it comes to performance the FL 4x4 is equipped with the six cylinder Volvo D8K engine at 250hp (950Nm) or 280hp (1050Nm), matched to a standard 6-speed manual gearbox and deep rear axles of 5.86:1 or 6.31:1. An automatic box will be available to special order.
The Volvo FL with 4x4 has permanently engaged four-wheel drive. The distribution gearbox has a high gear and a low gear setting. The high gear is used during normal operation, and in challenging conditions, the low gear can easily be engaged by pressing a button on the instrument panel
Compressed air for more functions
The truck can also be equipped with an extra air nipple on the chassis for operating various accessories or inflating tyres.
Available throughout Europe
The new Volvo FL with 4x4 is available with Euro-6 configuration, and will be sold in all European markets where Euro-6 is mandatory.