Even more flexible EV ownership packages from Renault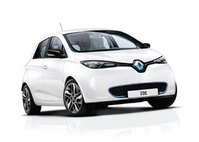 Renault UK is introducing new ownership packages with two of its most popular electric vehicles as part of its determination to make Z.E. (zero emissions in use) mobility flexible and accessible to the widest number of drivers.
Customers will now be able to order new ZOE i and Kangoo Van Z.E. i versions that are supplied 'Full Purchase'. This means that there is now the choice between full ownership of the vehicle and the battery, or buy-the-car/hire-the-battery schemes.
Potential Renault electric-vehicle customers can therefore tailor an ownership package to their exact requirements. There's also good news for those who prefer the peace of mind and lower purchase cost of battery hire, with a special offer with lower monthly rates for ZOE and Kangoo Van Z.E.
Whichever ownership package the customer chooses, the model line-up is exactly the same, with the exception of an 'i' badge on the tailgate for full purchase vehicles to ensure easy identification for the used vehicle market.
The ZOE continues to be available in Expression, Dynamique Zen and Dynamique Intens trim levels, while the Kangoo Van Z.E range mirrors the versions available in diesel form, with Van, Maxi, Crew Van and Kangoo Maxi Crew Van Cab to choose from.
The ZOE i is available from £18,443 'on-the-road', after the Government's Plug-in Car Grant, compared to £13,995 on battery lease. The Kangoo Van i range starts at £16,161 (+VAT) after the Government grant, compared to £12,995 (+VAT) if the battery is leased.
These full purchase models are protected by a five-year, 60,000-mile warranty on the batteries in addition to the standard Renault vehicle protection of four years / 100,000 miles. The battery warranty gives the customer peace of mind against possible decreases in battery performance over time, guaranteeing a minimum of 70 per cent of the original capacity for ZOE and 66 per cent for Kangoo Van Z.E.
Ken Ramirez, Managing Director, Renault UK, commented: "Renault was a pioneer in the EV market and has remained a leader by offering the best technology, across a wide Z.E. line-up and at affordable prices. The battery leasing scheme has proved popular with customers for the flexibility and lower purchase prices it offers. The addition of full purchase versions on our core EV models will offer private and business customers a greater choice and further strengthen our position in the UK EV market."
CAP Monitor, one of the UK's leading assessors of vehicle residual values, has responded positively to these initiatives. Martin Ward, CAP Manufacturer Relationship Manager commented: "The ZOE and Kangoo Van Z.E. ranges have become a time-tested, high-quality, innovative and important component of a fast-growing vehicle sector. CAP Automotive welcomes any steps that broaden choice for the customer and increase the opportunities for take-up of these cars by the motoring public and businesses."
Battery Hire – Customer Offers
Meanwhile, the battery hire scheme, which has proved to be such an attractive proposition with early adopters of electric vehicles, becomes even more appealing with the introduction of a new special offer.
Battery hire will start from £25 per month (down from £45) for the ZOE and from £33+VAT per month (down from £61+VAT) for the Kangoo Van Z.E. range. Over a 36-month period this represents a total saving of £900 on ZOE and £1,008+VAT on Kangoo Van Z.E. on the cost of the battery lease.
The flexibility and convenience of Battery Hire make these offers even more attractive, with a Lifetime Performance Guarantee on batteries under its lease scheme, including repair or replacement if they fall below 75 per cent of their original capacity, as well as the peace of mind of roadside recovery even in the event of an owner running out of charge away from a charging point.
Renault has the widest range of all-electric vehicles on sale in the UK. In addition to the stylish ZOE supermini and workaholic Kangoo Van Z.E., it also offers the fun-in-the-city Twizy. Renault has already sold a total of 2,000 electric vehicles in the UK.