Hilton revives Brunel's grand Victorian vision for great age of travel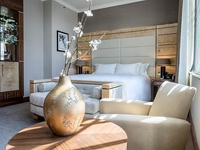 A stunning new venue for business travellers will make its mark in central London on 1 January 2015 with the opening of the GWR Tower and Tower@Paddington in an exclusive wing of the Hilton London Paddington Hotel.
Hilton's £multi-million investment has restored the historic glory of the former Great Western Royal Hotel, one of London's most iconic Victorian buildings.
Originally built in 1854, it was the world's first palatial railway terminus hotel and brought to life the vision of Isambard Kingdom Brunel, the great 19th century engineer whose designs revolutionized public transport and modern engineering.
Situated at Paddington Station, it is one of the best-connected hotels in London. The location, just 15 minutes from Heathrow Airport on the Heathrow Express, makes it an excellent hub for UK and international travellers. Plus with four London Underground lines on its doorstep, guests can enjoy fast, easy access throughout the capital and beyond.
Signalling a new era of premium business hospitality, the development combines British Victorian architecture with Art Deco interior design. The 56 new rooms of the GWR Tower offer spacious, elegantly appointed accommodation with separate areas for work and relaxation.
GWR Tower guests can also enjoy first class service in the exclusive lounge at the top of the new wing.
In addition, the hotel offers a comprehensive range of executive services including conference and meeting rooms along with a full range of hotel amenities, the Brasserie Restaurant, Steam Bar and a well-equipped gym.
Oded Lifschitz, UK area vice president, Hilton Worldwide said: "The opening of the GWR Tower Wing begins a new chapter in the hotel's illustrious history. Its character is defined by its proud heritage as the gateway to London, with Brunel's Great Western Railway (GWR) and Heathrow Express making it a superb base for business. We look forward to offering a warm welcome to guests seeking outstanding accommodation in a fantastic location."
Bookings are being taken from 1 January 2015. From January to March 2015 GWR Tower guests using the Heathrow Express will be upgraded to Business First (first class). For bookings or enquiries, visit hilton.com
Angus McIntyre, head of business development for Heathrow Express, said: "We are thrilled to have GWR Tower guests upgraded to our first-class carriages. This way they can travel speedily between central London and Heathrow in the same level of stress-free comfort they enjoy in this fantastic new facility at the Hilton London Paddington Hotel."