Casio Edifice x Infiniti Red Bull Racing EQB-500RBK-1AER Watch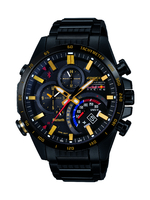 Nobody knows which watch Santa wears, but being a truly international traveller with a penchant for speed, chances are, he would appreciate the latest EQB-500RBK-1AER timepiece collaboration between Casio Edifice and multiple F1 champions, Infiniti Red Bull Racing.
The striking EQB-500RBK-1AER is a precision timepiece specifically designed for world travellers and gadget-geeks, using Bluetooth v4.0 technology to seamlessly synchronise with a smartphone and simultaneously display the exact time at home and abroad.
This timepiece features the latest retro-inspired design language from the latest AW14 range of motorsport chronographs. The tough, black-passivated case and bracelet are incredibly resilient and contrast beautifully with the sharp gold detailing and precision screened colour graphics on the face.
Intelligent timing is a necessity in motorsport, and here, the EQB-500RBK-1AER excels, being able to store up to 300 separate items of lap data to be retrieved later via the Bluetooth connection. As you might expect from a genuine motorsport chronograph, stopwatch accuracy on this timepiece is to 1/1000th of a second. Tough Solar technology also ensures continuous performance whilst vibration-resistant Silicone alphaGEL elements surround the watch, making it even more resistant to shocks and potential damage. But, we've saved the best part until last! Once you have linked this watch to your phone, should you lose the said item, simply press the bottom right button on the EQB-500RBK-1AER and it will sound a highly audible alert on the phone, allowing you to locate it easily – even if it has no signal at the time!
Developed through years of working with the championship-winning Infiniti Red Bull Racing F1 team -- a team well used to crisscrossing the globe -- the EQB-500RBK-1AER is a feat of ingenious packaging. Not only does this latest model from the 2014 autumn/winter catalogue feature a motor that is 26% smaller than models from previous collections, it is the first motorsport-inspired Casio Edifice timepiece with the ability to link to a user's smartphone.
Once paired with a compatible smartphone* using a simple one-touch operation, this novel feature allows the watch to automatically correct the main analogue display to precisely match the local time in whatever country you alight in. Meanwhile, the supplementary dials are used like a watch-within-a-watch to clearly indicate the day, time and am/pm status back at home. Twice a year the EQB-500RBK-1AER will also use its smartphone link to automatically adjust the clock for summertime.
The intuitive, free-to-download application that accompanies the Casio Edifice EQB-500RBK-1AER currently contains the time zone details for 300 cities across the globe, a figure that will increase through regular updates. And in an additional feature that saves constant checking of your smartphone, the app can be used to remotely set alarm calls and even provide incoming email notifications on the watch!
The 2014 Casio Edifice EQB-500RBK-1AER is available from the Casio London store, branches of H Samuel and other quality jewellers, or via casioonline.co.uk. For more information visit edifice-watches.co.uk
RRP £580.