Sydney set to stun this summer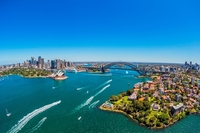 Millions of people are expected to visit Sydney this summer to soak up the sunny days, balmy nights and exciting calendar of events. According to the NSW Government's tourism and major events agency, Destination NSW, Sydney typically welcomes around 15 million visitors between October and March each year. The 2014-15 season will be no exception, as the iconic city is estimated to attract approximately 17 million regional, interstate and international visitors.
Deputy Premier and Minister for Tourism and Major Events, Troy Grant said: "Last year Sydney welcomed 16 million visitors between October and March, up around 9% on the previous year. These visitors stayed more than 48 million nights, adding $8 billion to the NSW economy.
"Summer in Sydney will once again give every visitor something to enjoy - from our beautiful beaches, fantastic food and wine, great shopping and of course our major events and festivals. With over 20 Sydney events supported by Destination NSW, covering everything from sports, arts, entertainment and lifestyle, there's plenty to choose from."
Destination NSW CEO, Sandra Chipchase, commented: "Sports fanatics, art lovers, bargain shoppers, beach goers, and festival fans are all covered this Summer with an exciting range of events taking place all over Sydney. The Extreme Sailing Series, Tropfest, Australia Day, the AACTA Awards, Hurley Australian Open of Surfing, the ICCC Cricket World Cup, AFC Asian Cup, Sydney International Art Series and Dirty Dancing are just some of the events that will be in town, and I'm sure will be enjoyed by local and visiting audiences.
"Our new timelapse video, Summer in Sydney, demonstrates in a flash that it's all about getting outdoors, enjoying the warm weather, and checking out new restaurants and attractions all over the city. Whether you catch a ferry to Manly for a day on the water, treat yourself to a seaplane ride to the Northern Beaches, or enjoy a family picnic in the Royal Botanic Gardens, there is truly something special for everyone during a Sydney Summer and we encourage you to come and make the most of this vibrant season."
View and share the new Destination NSW Summer in Sydney video here: bit.ly/summerinsydney with #ilovesydney.
A new timelapse video released today captures a slice of Sydney in Summer action - bit.ly/summerinsydney.
For more information about things to see and do in Sydney, visit sydney.com.
Visitors can share their Sydney experiences via: Twitter: @sydney_sider #ilovesydney; Facebook: tag Sydney.com; and Instagram: #ilovesydney, @sydney
Sydney Summer Events supported by Destination NSW between December 2014 – February 2015 include:
Electronic Music Conference, 2-4 December 2014
Sydney NRMA 500, 5-7 December 2014
Tropfest, 7 December 2014
Extreme Sailing Series, 11-14 December 2014
Sydney Festival, 8-26 January 2015
AFC Asian Cup, 10-31 January 2015
Dirty Dancing, until 11 January 2015
Apia International, 11-17 January 2015
2015 Youth Trans Tasman Series, 16-18 January 2015
The Big Issue Street Football Festival, 17-24 January 2015
Australian Theatre Forum, 20-23 January 2015
Australian Boardriders Battle, 24-25 January 2015
Australia Day, 26 January 2015
Yabun, 26 January 2015
AACTA Awards, 29 January 2015
Hurley Australian Open of Surfing, 7-15 February 2015
Australian Surfing Awards, 12 February 2015
Bowl-A-Rama Bondi, 17-22 February 2015
ICC Cricket World Cup, 27 February 2015
Sydney International Art Series - Chuck Close: Prints, Processes and Collaboration, November 2014 – March 2015
Sydney International Art Series - Pop to Popism, November – March 2015
For a full list of events in Sydney go to sydney.com.