Rudimental to headline Boardmasters 2015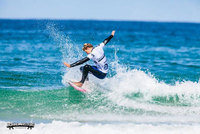 Boardmasters, the UK's biggest surf and music festival, have announced that its first headline act to perform at the event in 2015 will be chart topping dance act, Rudimental. Boardmasters 2015 returns to the beautiful Cornish coastline from Wednesday 5 August to Sunday 9 August next year. Tickets are on sale NOW via the website here.
Known for bringing the hottest talent of the moment to Cornwall, Boardmasters confirm its first 2015 headliner BRIT Award winners, Rudimental. The group, who have topped the charts with #1 tracks 'Feel The Love' and 'Waiting All Night' are continuing to dominate the charts and promise fans an unforgettable set when they grace Boardmasters' main stage against the stunning backdrop of Watergate Bay next summer.
Rudimental said this about their future Boardmasters performance: "We had an amazing time when we played Boardmasters a few years ago! We can't wait to come back next year and celebrate our second album with everyone!"
Established in 1981, Boardmasters is a 5-day event situated in two stunning locations in Cornwall. The event in 2014, which welcomed 30,000 festivals-goers has been hailed a huge success; despite the fact that organisers were forced to close the festival early because of severe weather caused by ex-Hurricane Bertha. Those wishing to secure their tickets now can get their hands on Tier 2 tickets for a limited time. Boardmasters operates a tiered ticket system with price bands for tickets changing over time. The sooner you buy, the cheaper it is! Book tickets via the website.
Andrew Topham, Festival Director, said: "We now couldn't be more excited about Boardmasters 2015 and announcing Rudimental as our first headliner. Demand is at an all time high, as we fly through Tier 2 tickets, after selling out the Dawn Patrol tickets in record time. Rudimental are a fantastic group that will put on a stellar performance. Stay tuned as we will have loads more great names to add to the line-up soon!"
Renowned surf hot spot, Fistral Beach will also once again host five-days of thrilling surf competition. From Wednesday 5 August to Sunday 9 August, fans, friends and family are expected to visit the beach in there thousands in support of local and international surf talent. Competition details to be announced in the New Year.
New for 2015, Boardmasters camping at Watergate Bay has been extended, opening a day early, from Wednesday 5 August. This means festivalgoers now won't have to miss a single day of the event including the surf action at Fistral Beach during the days before the music site at Watergate Bay opens over the weekend.
Also announced, is the bumper ticket package called the 'Charger' ticket. It includes everything from bus pass to parking, VIP camping, Beach Session gigs, After Parties and a Boardmasters t-shirt and tote bag! For more information, visit boardmasters.co.uk/news/article/new-charger-ticket/