Nissan says "thanks a billion" to Leaf owners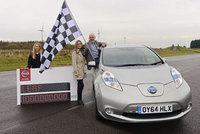 Nissan has revealed that owners of the LEAF, its 100% electric car, have collectively recorded an impressive one billion kilometres on the CarWings telematics system worldwide; saving over 180 million kilograms of CO?emissions in the process.
This incredible achievement comes almost four years since the LEAF was launched in 2010 as one of the first mass-market, pure-electric vehicles. It is now the best-selling electric vehicle in history, with over 147,000 LEAF vehicles sold globally to date, 31,000 of which have been sold in Europe.
Thanks to the innovative CarWings telemetry used in the LEAF, Nissan has been able to keep an accurate log of the total distance covered by every LEAF registered with CarWings since the car's launch. Nissan has been recording the kilometres on an online counter and actively involving owners in the count with a series of celebratory videos.
Paul Willcox, Chairman for Nissan in Europe, said: "Our aim was to see Nissan LEAF owners registered with our innovative CarWings system amass one billion kilometres by January 2015, and we are absolutely delighted to announce that we have achieved this landmark milestone earlier than anticipated. We would like to thank every single Nissan LEAF owner for helping us in reaching this world-first.
"The Nissan LEAF was the first mass-market family electric vehicle ever built and the owner satisfaction scores are the best in the Nissan range. This huge distance landmark shows that many of our customers are rapidly clocking up kilometres as they enjoy the benefits of quiet, emission free driving."
This extraordinary accomplishment reflects the success of the LEAF and is testament to the company's on-going leadership in the electric vehicle market. Nissan continues to maintain its position at the forefront of the field, having launched its second 100% electric vehicle, the e-NV200, a Zero Emission, compact city van.
For further information, visit nissan.eu.