La Manga Club raises bar with new sports performance centre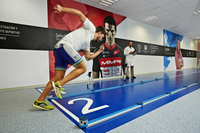 Spain's five-star La Manga Club has endorsed its commitment to delivering five-star excellence across its sports and leisure sectors after adding to its extensive first-class facilities by opening a new High Performance Sports Centre.
Developed in conjunction with the Catholic University of Murcia (UCAM), the centre has been set up at the luxury Murcia complex to provide athletes of all abilities with the most advanced technology possible to study all aspects of their health and training programmes.
Available to both professionals and amateurs alike – the only place in Spain to offer such a programme – the new state-of-the-art facility has been created to investigate, assess, monitor and advise high-level athletes and the general public about sports performance, health, injury prevention and rehabilitation.
On offer for all sports including football, tennis, rugby, golf, cycling, athletics and triathlon, the centre will provide analysis and study of body composition; biomechanical analysis; stress tests with heart rate monitoring and gas analysis; cardiac study and heart disease detection in order to prevent sudden death; advice on nutrition; specialised medical tests and clinical analysis; and study of biomolecular markers.
Jose Asenjo, general manager of La Manga Club, said: "It's our desire at La Manga Club to provide our guests with access to the best facilities possible across all areas of sport, and opening this new centre will help us take an important step forward to achieve our aim.
"We've worked very closely with UCAM over the last few years to develop the centre and are very proud of the new addition to the resort. Sports science and looking after your body plays a vital role in modern-day sport and is crucial for athletes in delivering the best performance possible, whatever level they are competing at."
The new centre comes at the end of an exciting 12 months for La Manga Club that has seen it cement its reputation as Europe's premier sport and leisure destination.
Among its many highlights the resort signed a long-term agreement with the European Powerlifting Federation (EPF) and International Powerlifting Federation (IPF) to host all their major competitions and tournaments until 2018 and opened a new Leadbetter Golf Academy – the only one in mainland Spain – while it also hosted the opening event of the 2014 XTERRA Cross Triathlon Series in Europe.
The official overseas training base of the Lawn Tennis Association (LTA), La Manga Club boasts unrivalled facilities as a sport and leisure venue including three 18-hole championship golf courses, a 28-court tennis centre and a 2,000sqm spa and fitness centre. It also offers the choice of a five-star hotel, four-star serviced apartments and townhouses and more than 20 bars and restaurants.
For more information or to book, visit lamangaclub.com.