Vauxhall reveals quality secret as 5-millionth car leaves Ellesmere Port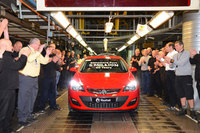 Today, in its 50th year as one of the UK's most prolific car plants, Vauxhall's Ellesmere Port factory has released dramatic footage of a vehicle sign-off like no other, while celebrating the five-millionth car to be produced at the Cheshire plant.
News of the landmark car will be an extra boost for the near-1,800 workforce at EP, who build a new car every two minutes, and is currently gearing up for production of an all-new Astra later in 2015. As the lead manufacturing plant in Europe for the new model, Ellesmere Port is taking on an additional 300 staff next month as part of a £140 million investment by parent General Motors, which will secure the plant's future into the middle of next decade.
Vauxhall started building its compact cars at the Cheshire plant in 1964, and has been responsible for all Viva models (a nameplate that'll return to the brand next year), the Chevette and all six Astra models from 1982. In all, an average of 100,000 units has left the plant in each of the last 50 years.
But like its sister plant in Luton (youtube.com/watch?v=7r5FyzPX3W8) Ellesmere Port can also reveal footage of its extreme car sign-off process, which has evolved from clandestine 'testing' in the factory during the Sixties and Seventies, to one of the most comprehensive quality validations in the motor industry.
In 1964, when the first Viva HA rolled off the line, Ellesmere's workforce was as passionate and skilled as it is today, but one employee – known simply as 'Ellesmere Pete' – developed a finely-honed test process, which is now used as a rubber-stamp by the factory on all the vehicles it makes.
Pete works during the plant's downtime, and uses EP's vast Body Shop to put randomly selected Astras through a variety of tough tests. Suspension components are only signed off after Pete has jettisoned an Astra into mid-air and had it land safely, while steering geometry is analysed by completing a half-circuit of the body-shop on two wheels.
But while the process has always remained the same, from the earliest Viva HA's right through to modern day, Pete admits to some favourite test-drives around the plant. 'The Firenza Droopsnoot was a cracker. It had so much poke that the biggest challenge was not clipping some of the machinery as you drifted it between production lines. And when I got my hands on the first Astra GTE back in '82, it was by far the fastest thing I'd put through the stillage-chicane in Body Shop. I could hit 60 on a good day.'
Ellesmere Port's current Plant Director, Stefan Fesser, was sceptical about the testing when he arrived in 2013. 'Of course, Ellesmere Pete is a legend in GM circles, but I wasn't convinced until I saw the breadth of his high-speed testing in the plant, and the detailed reports he generates. And you know what? After fifty years, he still does a fantastic job of validating the great quality that comes with every car we produce. Long may he continue.'
To view Ellesmere Pete at work, from 1964 to 2014, go to: bit.ly/1w5DhU2
Today's Astra range is as popular and diverse as ever. With power outputs ranging from 100PS through to 280PS for the VXR model, it almost always features in the UK's top-five best sellers and is available as a 3-door GTC coupe, 5-door Hatch and Sports Tourer estate. Both the Hatch and Sports Tourer are built at Ellesmere Port, with 76 per cent of total volume going to export.