Infiniti joins the retail environment in the UK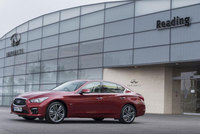 Infiniti Europe is making a significant change in the operational control of the UK Infiniti Centres based in Reading, Birmingham, Stockport, Leeds and Glasgow. With immediate effect, all the retail services previously offered at these centres by Rymco UK Limited and Mana Premier Automobiles Limited are now under the control of Infiniti through a wholly-owned subsidiary of Infiniti's parent company, Nissan.
Francois Goupil de Bouillé, Vice President for Infiniti Europe, Middle East and Africa said: "This is a change that reflects Infiniti's commitment to establishing the brand and its products in the UK and in Europe overall. It is another building block of our business model."
From now, the five 'Infiniti Retail' centres are under direct control of parent group subsidiary, Rose Kiln Retail Ltd and will be led from 1st January by new Managing Director Brendan Norman who will be reporting directly to Francois Goupil de Bouillé.
Norman, currently General Manager Sales Operations, Infiniti EMEA commented; "Having direct control will bring us closer to our customers and allow us to adapt quickly in the fast-changing retail and digital environment. We have many exciting plans for Infiniti Retail and I look forward to disclosing some of these steps in the not so distant future."
Under the terms of the agreement between the companies staff will transfer to the new business, providing stability and continuity for new and existing customers. Infiniti owners who already enjoy the exceptional customer service offered by the centres will notice no differences.
Both Rymco and Mana Premier Automobiles have decided to concentrate on other operations in both their home and other world markets.
Infiniti's UK retail initiative comes ahead of plans to begin UK production of an all-new Infiniti model. To be made at Infiniti's manufacturing plant in Sunderland due to open in 2015, the new car was previewed by the Infiniti Q30 Concept shown at the Frankfurt Motor Show in 2013.
The initiative also comes shortly after the opening of another bold Infiniti step in the UK – the company's first bespoke design studio, Infiniti Design London.
The Infiniti network around the UK is continuing to grow with new partners signing up. In addition to Reading, Birmingham, Stockport, Leeds and Glasgow, Infiniti already has other centres in St Albans, Norwich, Newcastle and Hull with Infiniti Maidstone opening up in early 2015. Further new Infiniti Centre openings will be announced shortly.