Guarantee peace of mind this winter with a Volkswagen Winter Check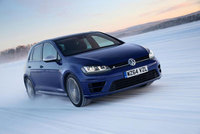 With the winter now really setting in, it's time to give your Volkswagen a little tender loving care and make sure it's ready for the cold mornings and dark nights. Volkswagen Retailers are offering Winter Checks for just £20, so you can make sure your car is prepared to weather everything the season throws at it.
The Winter Check begins with an Express Visual Health Check by a fully-trained Volkswagen technician to highlight any obvious or potential problems. It then includes an oil and washer fluid check and free top up, battery and alternator check, as well as free fitting of any bulbs or wiper blades required when purchased at the Retailer.
Once any required work is complete, you'll then drive away with a Volkswagen Winter Car Care Kit worth £20 which contains screenwash, de-icer, cockpit care, ice scraper and cleaning cloth, as well as a £20 voucher towards your next battery, fitted before 31 March 2015.
To book your Winter Check you can either contact your local Volkswagen Retailer or use the online booking facility on the website: volkswagen.co.uk/owners/winter-check
Cold weather tyres and Snow Socks are also available through Volkswagen Retailers. Cold weather tyres are designed to work when the temperature drops to 7°C and below as the tread design and compound formulation are better than summer tyres at these temperatures, so they improve grip, traction, handling and braking. The Met office states that average temperatures between October and March are generally below 7°C so it can make sense to fit them.
Snow Socks are a cheap but effective traction solution. They are similar to snow chains and fit around tyres to improve grip. They are only for use on snow and icy roads and should be removed before driving onto treated/cleared roads to avoid premature wear.
Volkswagen Retailers are best placed to advise you on winter tyres and socks and the recommendation is to ring ahead and book a slot with a sales advisor.
The Winter Check is available at participating Volkswagen Retailers until 31 March 2015. And even if you decide not to give your car a Winter Check, there is plenty of advice on driving in winter available at volkswagen.co.uk/owners/winter-check/winter-driving-tips.