Jamaica gets 'reggae' to party as the countdown to 2015 begins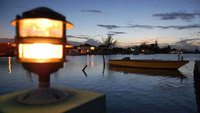 Jamaica, the Caribbean's liveliest island, is preparing to count down to 2015 with a night full of celebrations. Those lucky enough to be on the island can enjoy a host of festivities taking place to welcome the New Year in style.
Visitors can choose from a range of exciting events including a James Bond-inspired party at GoldenEye Resort or a luxury dining experience at eco-boutique Hotel Mockingbird Hill in Port Antonio. Revellers can head to the stylish Tryall Club and Bourbon Beach in Negril, or choose to celebrate the arrival of 2015 on Kingston's Waterfront at the annual fireworks display - Jamaica has something to cater for every traveller's New Year plans.
Party Like James Bond at the Luxury GoldenEye Resort
Those looking for a once-in-a-lifetime experience should head to the world-famous GoldenEye Resort in Oracabessa Bay on Jamaica's north coast. In keeping with James Bond's suave persona, the evening will be filled with a DJ, live music, delicious food, champagne toasting, and non-stop dancing to welcome 2015. A bonfire will also be lit and fireworks set off to illuminate the sky over Oracabessa. Tickets cost from £143 per person, which includes all entertainment, a sumptuous buffet dinner, champagne and drinks from the premium bar. For more information, visit goldeneye.com.
Dine from a Delectable Jamaican Menu at Hotel Mockingbird Hill
If it's a delicious dining experience you have in mind, then head to the Hotel Mockingbird Hill's restaurant, Mille Fleurs. Open to both guests and visitors of the eco-boutique hotel in Port Antonio, dinner will kick start with Sorrell Fizz Cocktails before moving on to a delicious three-course dinner. The menu includes Jamaican Jerk Chicken with a special twist, shrimp-topped snapper and a duet of lobster. For more information, visit hotelmockingbirdhill.com.
Stylish New Year Celebrations at The Tryall Club
The Tryall Club, will start its night of super-slick entertainment with guests and members alike sipping on a choice of sparkling wines and dining from a decadent menu. Starting at 7.30pm, guests will be welcomed to an electrifying evening featuring a menu created especially for this New Year event. The stunning views overlooking Montego Bay will be the perfect backdrop to this stylish soiree. For more information, visit tryallclub.com.
Dance Until the Sun Comes Up in Negril
For those wanting a night of serious partying, head to Bourbon Beach in Jamaica's party capital, Negril. Revellers can dance all night long as DJs take to the decks for the UV VIP party. Champagne will be served to welcome the New Year with premium spirits and Hors D'oeuvres served throughout the night at an Ultra SMIRNOFF Vodka Lounge for party go-ers to enjoy. Advance VIP tickets cost from £20 per person. For more information and tickets, visit yardticket.com/product/ultra-violet-new-years-eve-party.
Kick off 2015 in the Capital, Kingston
Jamaica's capital, Kingston, will come alive for its famous New Year celebrations. A stunning fireworks display will take over the sky at Kingston's Downtown Harbour as the clock strikes midnight. The free event is perfect for families too, with a kiddies village, a massive craft market, and live family-friendly entertainment on the giant stage. For more information, visit keepitjiggy.com/jamaica-2014-events-holidays/.
For anyone still looking to get away this New Year, there is still time to book a last-minute package.
Seven Nights All-Inclusive Package At Jewel Paradise Cove, Runaway Bay From £2,366 Per Person
Caribtours is offering a seven-night, all-inclusive package at Jewel Paradise Cove, Runaway Bay, from £2,366 per person. Price is based on two adults sharing a premier guest room and includes return scheduled flights and transfers from London Gatwick on 26 December 2014. To book, visit caribtours.co.uk.
For more information on Jamaica, go to VisitJamaica.com.