Craftsmen build on the Lakeland tradition for new homes in Cockermouth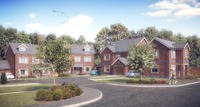 Cockermouth's architectural heritage will help shape a new collection of homes, inspired by the local landscape.

Award-winning developers Lovell aim to combine traditional architecture and materials, which blend in with the town's rural setting, with contemporary interiors to suit the needs of modern families.

The skilful combination has been designed to provide homebuyers with the rare opportunity of living in a new home, whilst maintaining the area's rich cultural legacy.

The Laureates will feature more than 200 luxury properties, incorporating local materials, including stone and render, to create 'visually diverse' and varied architecture.

A picturesque backdrop of mature trees will surround the development and help it blend into the mature setting. The surrounding woodland will be carefully managed to ensure that retained trees overhanging the boundary will continue to flourish and complement the development.

Homes will feature classic characteristics including recessed or protected porches, canopies and projecting sill details.

The impressive scheme will comprise an appealing collection of 217 mews, semi-detached and detached homes, including 88 affordable properties for local people, and will provide homebuyers with the rare opportunity to purchase a new home in the sought after market town.

Lovell, a respected business which specialises in creating new communities featuring popular and contemporary homes, are building on previous successes elsewhere in the Lakeland area, with a range of two, three, four and five-bedroom properties.

Simon Parr, build manager for Lovell in the North West, said: "We have a number of considerations to take into account on this development, including a beck which runs through it and a significant number of mature trees.

"At the moment we are undertaking foundation works, with about twenty to thirty workers on the site on average and we have had to install a temporary bridge for access for vehicles and a sill defence for the beck to ensure any silt is removed and the water is kept clean.

"This development is very important to the area and we want to maintain its natural charm."

The plans also include extensive landscaping to the surrounding area, the introduction of communal play places, in addition to a meadow, native hedgerows and tree planting.

A stream, which runs through the site, will be improved to create an attractive feature and ecologically rich landscape that is accessible to the residents

As the building work is underway the homes are expected to go on sale in spring 2015.

Homebuyers can register their interest in the new homes at The Laureates by visiting livelaureates.co.uk.