Land Rover brings new Discovery Sport to life with Augmented Reality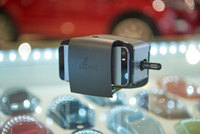 Land Rover has unveiled innovative Augmented Reality (AR) technology to support the launch of the New Discovery Sport bridging the gap between the announcement and vehicles arriving in showrooms. The digital initiative will be rolling out across all 117 Land Rover retailers in the UK.
With the New Discovery Sport going on sale nationally on 22nd January 2015, customers are already visiting Land Rover retailers to find out more about the new model. The new technology delivers a life-like 3D model to showrooms. Using a Durovis Dive* headset, Land Rover has created an innovative experience that allows customers to take a complete virtual tour of a full-size 3D model of the New Discovery Sport.
When visiting the Land Rover retailer, customers will be encouraged to put on the Durovis Dive headset, which contains an iPhone 5S preloaded with an app. Visitors will then be directed to look at an activation marker on the floor where they will be immersed in a detailed photo-realistic 3D model of the New Discovery Sport. Customers will be able to walk around the vehicle to get a full sense of the size and scale of the car. At specific points, different animations will appear to demonstrate new features. When arriving at the driver's door, it will open to allow a full 360 degree view of the interior. At the rear the tailgate will open and customers will be able to witness the versatility of the vehicle, including its unique to class 5+2 slide and recline seating arrangements.
Laura Schwab, Jaguar Land Rover UK Marketing Director said: "We wanted to bring the new Discovery Sport to life between the global announcement and vehicles arriving in show rooms. We have received a huge amount of interest from customers through our retailers across the country, and this will give an exciting immersive experience, beyond that of a traditional online configurator or sales brochure.
"Bringing such an experience to a relatively small device provides the customer with the ease and familiarity of an iPhone together with the simplicity of updating the software to add accessories and the latest colour options and I am confident customers will find the experience informative and enjoyable."
The New Discovery Sport goes on sale on 22nd January in the UK and starts from £32,395 on the road.