Casio Edifice - Give the gift of time this Christmas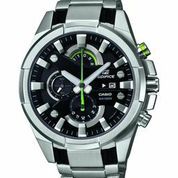 For those searching for a truly spectacular gift for the special man in their life this Christmas, Casio, with its Edifice range of motorsport-inspired chronographs, may very well have the answer. As a gift that will give years of enjoyment, service and functionality, why not give something that can be used every single day?
As the official timing partner of the Infiniti Red Bull Racing Formula 1 team, Edifice chronographs have been honed in the white heat of competition. That said, their super-accurate stopwatch functionality can also be quite useful for timing the slightly more bearable heat of Christmas dinner too, so as practical presents go, this one is right up there…
The Edifice range is incredibly diverse, but four range highlights are outlined below as an aide-mémoire for those out Christmas shopping this year.
The EQB-500D is infinitely preferable to any combination of socks, cologne, or ill-chosen knitwear, boasting a myriad of features that will make you feel right at home as you settle down to watch the Bond movie in the afternoon. Bluetooth functionality, self-setting global time adjustment and Solar Power certainly wouldn't look out of place at MI6, and the flawless stainless steel case and bracelet also works well by both evening wear and your Nan's Rudolph jumper. This one is priced at £300 RRP.
For the petrolheads, this stunning level of features and functionality also comes in the sportier EQB500RB version, which houses all of the gadgets of its subtler counterpart, but in a stylish black-passivated case and bracelet. Both watches can locate your new smartphone too, which is great news if the kids have run off with it, or it's disappeared down the back of the sofa on Boxing Day. Make someone's Christmas for £580 RRP.
Another timepiece that is bound to elicit gasps of delight upon opening is the ERA300RB. Once again, designed with those clever chaps at Infiniti Red Bull racing, this one boasts all of the usual Edifice tricks, but also has the added niceties of an accurate thermometer to allow to check whether your ambient temperature is just right for that after dinner Port, as well as 5 daily alarms to alert you when it's time for the Queen's speech. A perfect present at £350 RRP.
Finally, here's the elegant and classic visage of the EFR-540D-1AVUEF. A stopwatch accurate to 1/20th second, 3 year battery life and looks that belies its reasonable £220 RRP price tag. A wonderful, stylish way to show someone you care.
All of these timepieces come in smart presentation boxes, which not only makes them the perfect gift, but also make them much easier to wrap. All are available from the Casio London store, branches of H Samuel and other quality jewellers, or via casioonline.co.uk. For more information visit edifice-watches.co.uk.