All I want for Christmas is... to avoid a costly parking prang!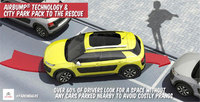 Ahead of the Christmas shopping rush, Citroen UK has released its latest #ParkingHero survey data, providing drivers with an insight into UK parking behavior as they tackle hectic car parks during the busiest shopping period of the year.
December can be an expensive month, but as drivers hurry to the shops for last minute present buying, it seems that this year's 'must have toy' might not be their biggest expense. In Citroen's recent survey, half of the drivers that admitted to pranging a car when parking then said they had driven off, leaving the innocent party to foot an unexpected Christmas repair bill.
It seems that high stress levels aren't reserved for the supermarket checkout when purchasing those Christmas 'essentials', as nearly half of respondents believe it's more likely they will have their car damaged in a supermarket car park than anywhere else. This sentiment is broadly the same for all ages of driver across the country. Next in line is the multi-storey car park, with 28% of the public fearing their car will sustain scrapes in this type of location. On-street parking came in third place at 17%.
When searching for our perfect parking spot, 63% of us tend to look for spaces that don't have any other cars nearby, rather than utilising the first space we find. That means, on average, only 37% of drivers are not worried about where they park their vehicle. Interestingly, the highest percentage of 'careful' parkers are in the 18-24 year-old age bracket, which includes new drivers.
Citroen's #ParkingHero campaign has been created to highlight the issues UK drivers face on a daily basis when parking. It also demonstrates the importance of parking-aid technology, which is available on the latest models in the Citroen range – including Airbump panels on the award-winning New Citroen C4 Cactus. Airbump is designed to protect against minor bumps and scrapes, helping to reduce stress and the expense associated with car park dings.
As well as producing a campaign launch film with the New C4 Cactus youtu.be/etHieSMnZvc, Citroen UK has worked with the IAM to create a series of four educational films, which feature three Arsenal Football Club stars and the New Citroen C1, to provide some top parking tips for drivers.
Parallel park - youtu.be/V5o-NWeQZfw
Reverse bay park - youtu.be/Bc8BqeqgwKM
Front bay park - youtu.be/UmdB0K4aV70
Parallel park with distractions - youtu.be/RXuBV0oaf18
Using the hashtag #ParkingHero, Citroen is inviting the British public to join the parking conversation and to share examples of daily parking heroics on Twitter, Facebook and Instagram. Social media users can enter their photos of great parking to be in with a chance of winning a prize worthy of a hero, including the use of a New Citroen C4 Cactus for a weekend. You can find out more about the #ParkingHero campaign by visiting:
facebook.com/CitroenUK
twitter.com/CitroenUK
instagram.com/CitroenUK