New DS 4 & DS 4 Crossback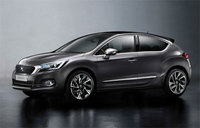 One model, two distinct body styles and a new front end. Unique design that embodies the spirit of avant-garde. Even more advanced technology with refinement apparent in every detail. Introducing New DS 4 & DS 4 Crossback.
Having sold more than 115,000 examples worldwide since its launch in 2011, DS 4 is gaining new impetus with the arrival of two complementary versions: New DS 4 is a dynamic and elegant hatchback for customers seeking sleek styling and driving pleasure, whilst the New DS 4 Crossback – a new version in the range – is a car with 'go-anywhere' looks and a higher driving position.
With this twofold offering, DS Automobiles is addressing the expectations of customers in the premium compact vehicle segment, which has seen some important changes in recent years. Crossover vehicles now make up 30% of the premium compact hatchback market.
"DS embodies the spirit of avant-garde. In the case of New DS 4, the brand's spirit is expressed through an offering made up of two body styles: a new premium hatchback and an unprecedented new offer: DS 4 Crossback, with elegant go-anywhere style. With such complementary vehicles, the DS brand is clearly stating its ambition, and its ability, to meet customer expectations." – Yves Bonnefont, CEO, DS Automobiles.
With its flowing lines, touches of chrome and high-performance engines, New DS 4 has all the qualities of a premium hatchback. Personalisation and greater customer choice is provided by the two-tone roof/body colour option, which is new to this segment. With its luxurious, refined and even more customisable interior, New DS 4 will represent a unique offering in the premium compact segment.
New DS 4 Crossback is an eminently versatile car. Its go-anywhere stance is reflected in its higher ride height and its large black wheels, as well as its wheel arch trims and roof bars, amongst other additional features.
New DS 4 and DS 4 Crossback perfectly embody the character of all DS vehicles. Their strong identity is underlined by a new front end – proudly sporting the 'DS Wings' grille design – new DS LED Vision headlamps, the latest technology with advanced connectivity including CarPlay and high-performance engines with CO2 emissions of between 100g/km and 138g/km (UK specification). Refined features include door panels upholstered in Nappa leather and semi-aniline leather upholstery with the signature 'watch strap' design that is exclusive to DS Automobiles.
With a world premiere at the 2015 Frankfurt Motor Show, these two new versions of DS 4 will be 'on sale' in the UK from November 2015.
One Model, Two Body Styles
DS 4 has always been unique, and remains so today, now with two distinct, yet complementary versions. New DS 4 is a dynamic and refined premium hatchback and New DS 4 Crossback takes the form of a stylish adventurer thanks to its 30mm higher ride height, specific features and styling.
New DS 4 features a unique body design. With its new, more powerful stance, this latest version meets all the expectations of a premium hatchback, complete with the promise of performance for the driver. A key characteristic of today's DS models is customisation. Initiated on DS 3 in 2010, New DS 4 introduces a two-tone offering with a choice of four colours for the roof and rear spoiler, the door mirrors and hub caps. The optional Perla Nera Black, Whisper Purple, Virtual Blue or Tourmaline Orange finish on the roof mean that up to 38 colour combinations are possible. There are nine body colours, including three new colours: Tourmaline Orange, Artense Grey and Platinum Grey. This 'bi-tone' option is unique in the premium compact segment and allows customers to adapt their car to their personality and lifestyle.
The New DS 4 Crossback is aimed at customers looking for 'urban and extra-urban adventure'. Versatile in concept and design, this new vehicle displays strong styling features including wheel arch trims, a differentiated front end and rear spoiler finished in black, and grey roof bars. Its status is further underlined by its black door mirrors, door sills and carpet mats and a ride height that is 30mm higher than the hatchback version. This car offers an alternative to conventional hatchbacks in this segment.
Avant-Garde Design
"A DS is identified first and foremost through its body style, unique proportions with a strong personality. Our choice for DS 4? A wide road-hugging body style for the New DS 4 hatchback version and an elegant go-anywhere style for DS 4 Crossback. With these two distinct vehicles, we are remaining true to our ambition: to deliver a new and exciting experience." – Thierry Metroz, Design Director, DS Automobiles.
Introduced on New DS 5, the signature DS front end can now be seen on New DS 4. It was directly inspired by the prestigious Numéro 9 concept car, which gave birth to the overall product and style strategy of DS.
It consists of:
A vertical grille with the DS monogramme and the 'DS Wings' signature in a nod to the original DS.
New DS LED Vision headlamps, as with DS 3 and New DS 5. The headlamps combine three LED modules with a Xenon directional module and new LED scrolling directional indicators. These headlamps are key to the identity of the front end and deliver a crisp, powerful light beam. In total there are 84 LEDs at the front of the car.
Black trim on the New DS 4 Crossback and body-coloured trim with chrome inserts on the New DS 4 hatchback enables easy visual differentiation between the two vehicles.
Viewed from the side, both versions feature a chrome 'belt' running around the dark-tinted side windows with a tautly drawn roofline ending in a spoiler. The compact, muscular rear styling maintains its refined, distinctive design.
Another key feature to the identity of New DS 4 is the panoramic windscreen. The windscreen offers upward vision of 45° for greater visibility. Both the driver and front passenger have individual rigid blinds and folding sun shields.
A High-Tech Product
"New DS 4 and DS 4 Crossback bring together the best in DS technology. The result: two new DS vehicles with a very strong personality and an incomparable level of equipment and finishing – generally reserved for the next segment up – efficient engines that set absolute standards in terms of performance and fuel efficiency, and modern connectivity features. While the Crossback body style is sure to inspire surprise and enthusiasm, the New DS 4 hatchback is a real alternative to conventional premium vehicles." – Eric Apode, Vice President Products & Business Development, DS Automobiles.
New DS 4 gains a major new feature as the first DS, and the first vehicle in the PSA Group, to offer CarPlay compatibility with the most recent Apple iPhones.
With its new 7-inch colour touch screen and latest innovations from the PSA Group in the field of MMIs (man-machine interfaces), New DS 4 delivers a high-tech driving experience. This new-generation screen provides easy access to all vehicle functions, from navigation to music, and has the added benefit of requiring 12 fewer buttons on the centre console. It is also designed to include new Mirror Screen technology, a function that duplicates Android or iOS smartphone content to the in-car screen.
Like all the vehicles in the DS range, New DS 4 and DS 4 Crossback will be available with DS Connect Box, which includes:
SOS & Assistance pack: a ground-breaking automatic call system used to locate the vehicle and obtain assistance in the event of an emergency or breakdown;
Monitoring pack: a virtual maintenance manual with automatic mileage monitoring, notification of upcoming service operations and eco-driving tips based on technical information provided by the car;
Mapping pack: locates the vehicle and sends an e-mail if the vehicle enters or leaves a given geographical area;
Tracking pack: provides the police with the vehicle's geographical position in the event of theft.
The high-tech approach reflected in these new connected services (Mirror Screen and Carplay) is also visible in other functions available on New DS 4. A reversing camera and keyless entry and start are now available, alongside blind spot monitoring for greater convenience and safety.
New DS 4 will be launched in the UK in November with six engines emitting between 100 and138g/km of CO2. One PureTech, two THP and three BlueHDi power units will be available. New DS 4 Crossback will launch with a choice of two engines: one petrol (PureTech 130 S&S 6-speed manual) and one diesel (Blue HDi 120 S&S, with either a 6-speed manual or an EAT6 auto transmission). Engine output ranges from 120hp to 210hp, with torque of between 230Nm and 400Nm. Fuel consumption is also significantly reduced. Ranging 74.3 to 47.9mpg (combined), New DS 4 and DS 4 Crossback are competitive with the best in their segment.
Petrol engines
PureTech 130 S&S 6-speed manual
A member of the PureTech engine family – which was awarded an International Engine of the Year prize earlier this year – this new turbocharged PureTech 130 S&S version in New DS 4 has an output of 96kW at 5,500 rpm, an increase of 9% over its predecessor, the VTi 120. Maximum torque is 230Nm, an increase of 44% compared with the VTi 120. Maximum torque is now available from 1,750rpm instead of 4,250rpm.
At the same time, the PureTech 130 S&S 6-speed manual cuts both fuel consumption and CO2 emissions by 21%. As a result, New DS 4 and DS 4 Crossback equipped with the PureTech 130 S&S engine deliver economy of 55.4mpg with CO2 emissions of 119g/km with 17-inch wheels.
THP 165 S&S EAT6
Paired to the new 6-speed EAT6 automatic gearbox, bringing faster gear changes, greater driveability and reduced internal friction, New DS 4 THP 165 S&S is an impressive performer, with fuel consumption of 50.4mpg marking a 29% improvement on the THP 160. CO2 emissions are 130g/km, with 240Nm of torque.
With maximum injection pressure of 200bar and Stop&Start technology with a reinforced starter, this engine has maximum output of 121kW at 6,000rpm. Maximum torque of 240Nm is available from 1,400rpm and remains constant to 4,000rpm, for remarkable driveability at both low and high revs.
THP 210 S&S 6-speed manual
New DS 4 will be the first DS vehicle to feature this new THP 210 S&S engine. The engine delivers a maximum output of 155kW at 6,000rpm. Maximum torque of 285Nm is available from 1,750rpm and remains constant to 4,000rpm. Fuel consumption is 47.9mpg with CO2 emissions of 138g/km.
This high-performance engine is a perfect match for the dynamic, refined style of New DS 4. For this reason, it will be available only with the hatchback version.
Diesel engines
New DS 4 and DS 4 Crossback are available with the latest-generation Euro 6 BlueHDi diesel engines. BlueHDi combines advanced performance with low fuel consumption and CO2 emissions. These results were achieved by working directly on the engines to find improved internal efficiency, fewer mechanical losses and by specifying an innovative and efficient exhaust system. The innovative and unique character of this exhaust line lies in its specific layout, with the SCR (Selective Catalytic Reduction) module positioned upstream of the additive particulate filter, this is the only after-treatment system able to reduce NOx emissions by up to 90% as well as reducing CO2 emissions by up to 4%.
BlueHDi 120 S&S 6-speed manual or EAT6
This is the entry-level diesel engine for New DS 4. Paired with either a 6-speed manual gearbox or the new 6-speed automatic gearbox, it can return fuel consumption as low as 74.3mpg and CO2 emissions of 100g/km with the 6-speed manual gearbox, or 72.4mpg and 102g/km of CO2 with the EAT6, each with torque of 300Nm. With these figures, New DS 4 hatchback and DS 4 Crossback set the standard for fuel efficiency with respect to the competition.
Blue HDi 150 S&S 6-speed manual
The BlueHDi 150 S&S with a 6-speed manual gearbox is a strong performer in the DS engine range. The figures speak for themselves with fuel consumption of 72.4mpg and CO2 emissions of 103g/km, with a torque output of 370Nm. Based on these three criteria, New DS 4 BlueHDi 150 S&S with the 6-speed manual gearbox emerges as the segment benchmark with between 20 to 70Nm more torque than its main competitors. This engine will only be available in the New DS 4 hatchback.
BlueHDi 180 S&S EAT6 fuel economy and torque
The BlueHDi 180 S&S EAT6 delivers outstanding performance and fuel economy, with fuel consumption of 64.2mpg and CO2 emissions of 115g/km for a torque output of 400Nm. With up to 50Nm more torque than its main competitors and a best-in-class torque rating, this engine delivers outstanding driveability.
Dynamic, Relaxed Handling
To account for the variation in ride height, specific adjustments were made for the two body styles. This was to further strengthen the driving characteristics of each version in terms of comfort and handling. With a lower centre of gravity, New DS 4 is inherently agile and stable. Customers will enjoy the driving experience in complete comfort. With a ride height raised by 30mm, New DS 4 Crossback offers a higher driving position for better visibility and a more relaxed drive, and the ability to take on different types of terrain.
Available with both body styles, Intelligent Traction Control is a driving aid that optimises anti-skid control for the front wheels on surfaces with little grip. It also improves 'start-up' performance, particularly on snow-covered surfaces.