Christmas crackers: Britain's sporting madness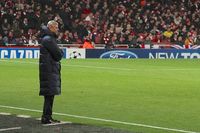 If there was any doubt that the British are a nation of sports fans, the Christmas holidays prove the point emphatically. TV audiences of millions and a universal willingness to put bums on chilly seats represent an annual testament to the nation's unremitting love affair with a good contest.
Christmas and the New Year bring with them a sporting jamboree. Boxing Day and New Year's Day have for generations been two of the nation's favourite sporting dates, and this year's holiday schedule is once again guaranteed to banish the holiday blues.
There is an inevitable whiff of nostalgia in seeing the entire Premier League in action on a single day - it doesn't happen that often any more. Two London 'derbies' (Chelsea v West Ham and Arsenal v QPR) will provide a bit of local spice on Boxing Day, whilst Southampton's clash with Arsenal and Chelsea's date at Spurs on New Year's Day both have a juicy look about them. And, with fixtures coming thick and fast over the holiday period, there is every chance for fans to overindulge their passion for the game. There is also the added unpredictability that comes with interruptions to players' routines of rest and recuperation. No wonder footy fans love Christmas.
Whilst Christmas is the crux of the football season, it also marks the point where jumps racing season really starts to raise a gallop. The King George VI Chase at Kempton Park on Boxing Day is the cream of the crop but there are also meetings at Leopardstown, Doncaster, Sedgefield, Towcester, Wetherby, Wolverhampton and Market Rasen. And there are a whole slew of additional meetings throughout the week including the Welsh Grand National at Chepstow on Saturday 27th December. Punters from every point of the compass will be watching with interest for markers for the 2015 Grand National in April.
Those who are not prepared to venture outdoors are healthily (or maybe not so healthily!) catered for, too. The World Darts Championship will run through the holiday period, all the way to the final on 4th January. Sixteen-time champion Phil 'the Power' Taylor will be out to reclaim the title from last year's winner, Dutchman Michael van Gerwen. As ever, the Alexandra Palace event will deliver its own unique slice of the nation's sporting character.
The danger for armchair fans is that once you settle into a comfy settee in front of the TV you may find it hard to leave. There will be cricket from Colombo as England gear up for the World Cup with their series in Sri Lanka, where Joe Root is finding inventive ways to pass the time, and there will be Christmas Day basketball from the US as the Cleveland Cavaliers take LeBron James back to Miami for a top-of-the-table clash. There will be top-flight rugby, there will be wrestling and, for the amateurs, there will fun runs, cold dips, races and bicycling galore.
It doesn't take much for the British to express their sporting passion. The only surprise is that we wait until the point in the year when the weather is at it coldest and most miserable to express it. That says something else entirely about the British national character.
There has been a great deal written over the years about what it is that makes us distinctively British. It's even become a hot political topic but there are some things that endure. Quite what it is that sends us all dotty over the sight of a racehorse in full flight or 22 men hoofing a ball around, is anyone's guess. It may well be impossible to put a definitive finger on but, for all that, it is part of the fabric of the nation: Like warm beer and Christmas crackers, it's just another part of the madness.